CommonBond is an online lender founded in 2011 that has become a prominent force in the student loan refinancing marketplace. Since their creation, they've refinanced over three billion in student loans. As one of the only lenders focusing on philanthropy, they've also donated over a million dollars to students in need.
One of their original founding principles was to redesign the loan application process to be as streamlined as possible. As a top option for student loans, how do they stack up against the competition? This review will outline CommonBond's pros and cons to help you make the right decision on whether you should refi your loans with CommonBond.
Name: CommonBond
Description: is an online lender offering awesome refi interest rates and perks. They have some of the best forbearance and deferment options around. However, they don't offer the best rates out there and are a little lackluster besides their main points.
Interest Rates

Repayment Options

Customer Service

Refi Amounts
How Does CommonBond Refi Work?
Student loan refinancing (refi) is when CommonBond pays off your existing student loans and then gives you a new loan at a (typically) lower APR or interest rate. Refinancing is an excellent way to save money by lowering your student loan interest rates.
Should I Refi My Federal Student Loans?
Although your refi option could have a lower APR than your federal student loans, federal loans have many benefits.
For instance, federal loans offer public service loan forgiveness, interest-free deferment and forbearance, discharge options, and income-based repayment plans. No private lenders provide all these benefits.
If you're deciding to refi your federal student loans, make sure to carefully think through your decision. Refi might not be the best choice for you if you plan on taking advantage of the federal benefits.
CommonBond Rates, Terms, and Fees Summary
CommonBond refi has some awesome interest rates. Moreover, they charge no origination or application fees.
I think the coolest part about CommonBond is that they offer the only "hybrid loan" available on the market. This product combines fixed and variable rate interest loans. The hybrid loan will lock a rate for the first five years, after which it becomes a standard variable rate loan.
Though, they do require you to refi at least $5,000.
CommonBond Rates, Terms, and Fees Summary
Variable Rates (APR)
3.18–6.06%
Fixed Rates (APR)
2.99–5.99%
Loan Terms
5, 7, 10, 15, and 20 years (contact customer service for more)
Loan Amounts
$5,000 min; $500,000 max
Fees
None! Only late payment fees of $10 or 5% of payment, whichever less
Payment Frequency
Monthly
Co-signers
Cosigners; release after 36 mo
Residency
U.S. Resident or permanent resident
Pros & Cons Of CommonBond
Generally speaking, CommonBond is a good option for the average applicant. If you fear you might face economic hardship in the coming years, CommonBond is a top choice, offering extensive forbearance options. In fact, from what I've seen, they have the most robust forbearance tools available.
One of the remarkable things about CommonBond is its partnership with Pencils For Promise. For every loan they refi, they promise to sponsor a child's education. This is an incredible social cause.
Unfortunately, CommonBond doesn't offer loans across all 50 states. They also don't have the most competitive rates available. Though they provide co-signer release after 36 mo, we didn't list this as a pro or a con since it depends on your perspective.
Pros:
Low-interest rates
Unique "hybrid" loan product
Amazing social cause to sponsor education
One of the best forbearance programs
Refi Parent PLUS loans
Cons:
Loans not offered in Mississippi and Nevada
No refi for associates degrees
How Do I Qualify For CommonBond Refi?
CommonBond refi statistics are, for the most part, undisclosed. However, in comparison to some other lenders such as SoFi, Laurel Road, or Earnest, I think it's reasonable to guesstimate that they'd have less stringent entry barriers than these top of the line lenders.
For example, SoFi has some of the best rates around. The average income and credit score there seems to be about $100,000 and 750. Since CommonBond doesn't have rates or benefits as good as SoFi's, we would probably say that the average applicant here has a lower income and credit score.
Guesstimation is your friend here. Though, note that getting a rate quote is entirely free of charge. Thus, it's worth a shot.
Financial Requirements
Minimum credit score of 660
Unknown income requirements
Undisclosed debt-to-income ratio minimum
Co-signers eligible
Must refinance between $5,000 to $500,000
Individual Requirements
U.S. citizen or a permanent resident with a green card
Working professional with four-year undergrad (or higher) degree
Must have graduated from a Title IV public or private institution authorized to receive federal financial aid
Not living in Mississippi or Nevada
What Are CommonBond Repayment Options?
CommonBond has typical loan terms of 5, 7, 10, 15, and 20 years. These are pretty standard options available across the loan industry. If you're looking for more flexibility in your loan terms, Earnest offers personalized options.
While CommonBond provides the standard fixed and variable rate loans, they also have a unique hybrid option. This ten-year hybrid takes the best of both worlds and combines them into one. A hybrid loan holds a fixed rate for the first five years and converts to a variable loan for the remaining five.
Generally speaking, it's worth remembering two rules of thumb across all lenders:
The longer your loan term, the less your monthly payment. However, you'll pay more overall.
The shorter your loan term, the lower the interest rate. This means that you'll pay less overall.
Thus, the shorter your loan term, the more beneficial it will be for you. However, you'll be expected to meet higher monthly payments. Choose your options wisely!
They also offer a 0.25% interest rate reduction promotion if you enable automatic payments.
Deferment & Forbearance
Like I've hinted at, CommonBond has some of the best forbearance options around.
Borrowers can request up to a total of 24 months of forbearance in three-month intervals. This is about double the average forbearance options around. A great perk to keep in mind if you fear some economic hardship will arise.
In terms of deferment, CommonBond also has excellent options. They provide academic, medical residency, and military deferment with proper proof. Moreover, you'll be forgiven of all loans in the case of death or disability. It's comforting to know that they are willing to be explicit about their views here.
Is CommonBond Safe?
It's not my right to be the absolute voice on this matter, but I will give facts to help you make a logical decision.
While CommonBond hasn't run into any trouble with the government, it isn't accredited by the Better Business Bureau (BBB). Worryingly, the BBB rates CommonBond a "B." Consumers note that there have been frequent credit report mishaps and rate misunderstandings.
Thankfully, CommonBond hasn't reported any major data breaches. However, there's always a risk when entering your sensitive info online.
Will CommonBond Hurt My Credit Score?
This question isn't as simple as yes and no.
CommonBond won't touch your score if you only get a rate quote. Though, if you finalize the loan, your credit score may be affected.
In these first steps, CommonBond only does "soft pull" on your credit score. "Soft pulls" don't affect your credit score. However, in the final steps, CommonBond will do a "hard pull" for your full credit history. "Hard pulls" could harm your credit score.
Though, credit inquiries play a small part in your score (10% in FICO score). Also, inquiries leave after only 24 months. Nothing much to worry about!
How Is CommonBond's Customer Service?
CommonBond knows that being entirely online can make things difficult for borrowers. Consequently, they offer several ways to contact their customer service teams. You can either give them a call, email, or live chat with them.
Nicely enough, some have even mentioned that CommonBond's customer service is far superior than SoFi's. That's always a nice note to hear.
What I Wish Was Different About CommonBond
Unfortunately, CommonBond is by no means perfect.
The first thing that comes to mind is that they should work on their Better Business Bureau ratings. A "B" rating isn't going to cut it these days and can be a little worrisome for potential borrowers.
Moreover, it would be nice if they offered loans across all 50 states. On top of that, they should be a little bit more transparent about the refi requirements. Their competitors give more information about the entry barriers, while CommonBond provides very little info.
How Does CommonBond Fare Against Competitors?
Top Student Loan Refinance Companies
How To Get Started On CommonBond
CommonBond's application is designed to be simple. To first get a rate quote, you'll have first to fill out a short form. This form will ask for basic personal and financial information. Afterward, you'll see if you're pre-approved for the loan.
If you're approved, and you like your rates, then you can proceed with finalizing the loan. In these final steps, you'll submit documents to prove your identity, income, and student loans.
If you have any questions, reach out to their customer service.
Should You Use CommonBond?
I think CommonBond is worth trying out. They have great forbearance and deferment options available and have a good cause in sponsoring education. Considering you can get a rate quote for free, it's worth exploring to see if you'll get approved.
The best way to deal with all these lenders is to apply for a bunch of them. You can then compare your rates across and choose the optimal one. Remember: you can get a rate quote completely free of charge from refi lenders such as ELFI, Earnest, or SoFi.
It's always a good idea to look through all your options. You wouldn't want to miss out on lower rates simply because you didn't look through other lenders. In fact, almost every online lender offers free quotes after just 15 minutes or so. Definitely worth the effort since you'll be with the lender you choose for years.
FAQs
Will my credit score get hurt if I apply for multiple loans?
This is a good question that comes to mind after you apply for many refi options.

Per FICO, your credit inquiries only count once across all student loan refi inquiries done in a short period.
If I only have a credit score of 660, should I bother applying?
Absolutely. There's no reason not to try. Getting a rate quote is entirely free of charge. Besides, if you're denied, CommonBond will explain why. You miss 100% of the shots you don't take!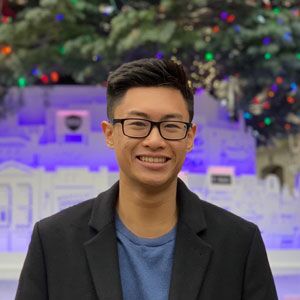 John Ta is an undergrad at the University of Pennsylvania and the founder of Penn's first undergrad personal finance club, Penn Common Cents. As a first-generation college student, he had to learn everything about personal finance on his own and seeks to mend the financial literacy knowledge gap seen almost everywhere. John is currently studying for an MS in Chemistry and a BA in Physics (business & tech concentration), Biochemistry, and Biophysics and is interested in the intersections of finance and healthcare.