Monitoring your credit score has become absolutely vital in today's day and age. Not only can you watch your score grow over time, but you can also fend off against potential identity theft.
In 2016, over 10% of people over the age of 16 reported that they were victims of identity theft last year. In fact, identity theft can ruin your life. Having the ability to watch your credit score is vital to fight identity theft.
Free tools such as Credit Karma and Credit Sesame have come out in the past decade providing robust credit score tracking. However, which one comes out on top? What are each's pros and cons? Are they safe to use?
In this article, we'll compare the two platforms and decide if either is better than the other.
Overview: Credit Karma Vs. Credit Sesame
| | Credit Karma | Credit Sesame |
| --- | --- | --- |
| TransUnion Reports | ✔️ | ✔️ |
| Equifax Reports | ✔️ | |
| Experian Reports | | |
| FICO Score Updates | | |
| VantageScore Updates | ✔️ | ✔️ |
| Monthly Credit Score Updates | ✔️ | ✔️ |
| Identity Theft Insurance | | ✔️ |
| Tax Filing Service | ✔️ | |
| Credit Simultator | ✔️ | |
| Credit Improvement Tool | ✔️ | ✔️ |
| Debt Analysis Tool | | ✔️ |
Read our full Credit Karma review!
Read our full Credit Sesame review!
What Is Credit Karma?
Credit Karma is a personal finance company offering robust tools and benefits such as:
Free monthly TransUnion and Equifax credit scores
Yearly free full credit reports
Credit cards, loans, and other product recommendations
Free-to-use tax filing tools
Credit simulators
Calculators
High-yield savings account
Founded in 2007, they've since then amassed over 100 million users and established a firm footing in the personal finance world. You've even probably seen some of their ads on TV. Moreover, all of their products are entirely free to use.
What Is Credit Sesame?
Launched in 2010, Credit Sesame is a rapidly growing credit and loan company that provides:
Free monthly TransUnion credit score (VantageScore 3.0)
Alerts when your credit score changes
Free credit monitoring
Free identity theft insurance covering up to $50,000
Debt tracking and recommendations
Their tools are handy, helping to both safeguard and estimate your credit score in a pinch.
What Types Of Credit Scores Exist?
Unfortunately, there's not just one magical credit score out there. Though, lenders typically focus on three:
FICO Score 8
VantageScore 3.0
Their own personal credit score models
The FICO Score 8 is the most widely used credit score. Comparably, the VantageScore 3.0 isn't used as much as the FICO Score but has gained prominence in recent years. The most important takeaway here is that they use entirely different models and weights to calculate your numerical credit score.
For example, FICO weighs payment history at 35%, whereas VantageScore only holds it at 32% of your credit score.
Furthermore, many lenders also have in house credit score models that are hidden from the public eye. Therefore, we will only cover the FICO Score 8, and VantageScore 3.0 since information about these models are public.
While a 700 FICO Score and 700 VantageScore don't mean the same thing, changes to one score will likely cause similar changes in the other.
Pros & Cons Of Credit Sesame
Credit Sesame offers useful and free-to-use credit monitoring services. Moreover, their unique identity theft insurance helps differentiate them from their competitors.
However, their free version only offers VantageScore 3.0 credit scores, which aren't used as often as the FICO Score 8. Moreover, they only offer credit scores from one of the bureaus, TransUnion. Since each bureau is independent of each other, you can't see mistakes on your Experian and Equifax credit reports.
They also don't offer FICO Scores, but this is a problem almost every free-to-use credit monitoring platform faces.
Pros:
Free to use
Mobile app is user friendly
Excellent credit score update features
Identity theft protection
Provides information about your debt
Cons
Only provides information from TransUnion (VantageScore 3.0)
No FICO Scores
Only one TransUnion credit report a month
Pros & Cons Of Credit Karma
Generally speaking, Credit Karma is a great way to monitor your credit score. Though, not only do they offer a wide variety of tools for you to use to build your credit score but also provide countless other perks.
Even their cons are some problems that almost every other free-to-use credit monitoring company faces. For example, no free-to-use credit monitoring company has free FICO scores.
However, one of Credit Karma's flaws is its advertising. Since targeted ads help them make money, they will put them in front of you until you bend. A small price to pay for their endless free-to-use tools.
Moreover, they only offer credit scores and reports from two of the bureaus. You won't be able to catch mistakes on your Experian credit report here.
Pros:
Free credit score monitoring and reports
Robust and free-to-use credit score tools
Free tax filing software
Calculators
Personalized product recommendations
Premium version has a lot of benefits
Cons
Relentless advertising
Doesn't provide Experian scores
No FICO scores
Head-To-Head: Credit Karma Vs. Credit Sesame
Credit Karma and Credit Sesame both have their fair share of strengths and weaknesses.
Where Credit Karma Bests Credit Sesame
Credit Karma offers far more perks and benefits for using their platform. For example, while both provide excellent credit monitoring tools, Credit Karma also has Penny, the robo personal finance advisor, and a credit score simulation tool.
If you're looking to buy a home, open a credit card, or save money, Penny can help guide you. Likewise, if you plan on making financial moves that you think could impact your credit score, the simulation tool can give you a sense of what'll happen.
Moreover, Credit Karma has free-to-use tax filing. Credit Karma Tax lets you electronically complete your federal and state tax returns. They even provide tips and tricks, audit defense, and a tax support team, all for no additional costs.
Credit Karma also has a unique feature where you can search your name through government databases to find unclaimed money. According to Credit Karma, there's more than $40 billion sitting with state governments, and it's up to you to claim that money.
Considering they even offer a high-yield savings account that's FDIC insured up to $5,000,000 just goes to show the wide variety of free products Credit Karma offers. This deposit account has an APY that is much higher than a standard savings account, charges no annual fees, and integrates well within Credit Karma's platform.
Where Credit Sesame Beats Credit Karma
Credit Sesame's most unique feature is its free identity theft insurance. Once you sign up for free credit monitoring, Credit Sesame automatically grants you $50,000 identity theft insurance and access to speak to identity restoration specialists. This insurance is a fantastic feature that no other credit monitoring company offers.
Also, Credit Sesame focuses on your debt, offering automated advice on managing your debt, and providing debt tracking tools. Your "Debt Analysis" screen also breaks down your current debt into its various categories, where you can also click on each to learn more. Credit Sesame gives you detailed information on your debt and tips on improving your current situation.
It might be worth noting here that Credit Sesame is currently developing its own high yield savings account. Although you can't sign up now, you can join their waitlist to be among the first.
How Much Do They Cost?
The theme of this article is that Credit Karma and Credit Sesame literally cost zero dollars to open an account and receive free credit monitoring.
Though, Credit Sesame does offer a premium service in which you can receive a lot more impressive benefits.
Premium Options
Credit Sesame offers three premium paid tiers.
Are these premium tiers worth their price tags? Personally, I don't think the average Joe needs any of the paid subscriptions.
However, if you fear your identity might or will be stolen, it wouldn't hurt to invest a little money to help keep peace of mind.
Advanced Credit ($9.95/mo)
For those looking for additional and more broad credit score monitoring, the Advanced Credit plan provides the following:
Daily TransUnion VantageScore 3.0 updates
Monthly full credit reports from all three bureaus (TransUnion, Experian, and Equifax).
Pro Credit ($15.95/mo)
For an extra $6 a month on top of the Advanced Credit plan, Pro Credit provides all the benefits of Advanced Credit and gives users the following:
Access to 24/7 credit report help
Credit monitoring with alerts from all three bureaus
Platinum Protection ($19.95/mo)
If you're looking to secure your credit, then Platinum Protection is here to save the day. Not only do you get access to all of the Pro Credit perks, but you now also get:
$1,000,000 identify theft insurance
24/7 stolen/lost wallet protection
Black market, public records, and social security monitoring.
How Do They Make Money?
This question is likely something you've been thinking about throughout this article.
Considering how many free products and services both offer, it must seem crazy to think that they even make money.
Turns out Credit Karma makes a lot, generating about $1 billion in revenue in 2019. Their primary source of income is through advertising and affiliate marketing.
When you successfully sign up for a product through Credit Karma or Credit Sesame, they get paid a commission. And with over 100 million users combined, this money quickly adds up.
This is why they charge nothing for their services. Both Credit Karma and Credit Sesame operate under the assumption that a free-to-use tool will attract more users that will eventually open up products that will generate revenue.
It's a brilliant strategy that even brought Intuit to acquire Credit Karma for $7.1 billion. Moreover, Credit Sesame has raised over $100 million in start-up funding as well. Something must be working if they're raising this much money!
Are Credit Karma And Credit Sesame Safe?
Generally speaking, we believe both Credit Karma and Credit Sesame are safe and legitimate. However, as with providing personal and financial information online, there's always an inherent risk.
While Credit Sesame has had no problems, Credit Karma doesn't have a clean track record with the law. In 2014, they settled charges with the Federal Trade Commission after failing to secure their users' personal information.
As a result of the ruling, Credit Karma must undergo security assessments every other year until 2034. Credit Karma knows that they are being watched, which is good to know as a consumer. Ironic that the credit score monitor is being monitored.
Moreover, if someone were to hack your account and try opening a credit card, both Credit Karma and Credit Sesame ask personalized questions from your credit history to ensure it's you. These questions are hard for hackers to answer since they cite specific details that only you'd remember.
What's The Verdict?
Although Credit Karma and Credit Sesame both have their strengths and weaknesses, I believe the most sensible option is to use both of them. Why?
Well, consider the facts:
Both are entirely free-to-use (unless you get Credit Sesame's optional premium plans)
Both offer robust and excellent credit score monitoring tools
You can delete either if you don't like them with no obligations
Each offers unique perks that the other doesn't necessarily have
For example, Credit Sesame has $50,000 identity theft insurance just for being a user, whereas Credit Karma has free tax filing software. Moreover, Credit Karma also has its free credit simulation tool, which can help you figure out the consequences of closing a credit card or signing up for a loan.
I think it makes the most sense to use both since you can then cover all your bases. Furthermore, both are really easy to sign up for, taking only minutes to do so. There aren't any downsides to downloading one or the other—only benefits.
It also doesn't hurt to have two tools providing you alerts in the case of any potential identity theft. However, if you're looking for more in-depth identity theft insurance and protection, check out LifeLock.
FAQs
What's the difference between my FICO and VantageScore?
The FICO Score 8 is the gold standard credit score and is used by about 90% of the top lenders every year. Comparably, the VantageScore 3.0 is newer and isn't used as much as the FICO Score, but is still incredibly important.
Can Credit Karma or Credit Sesame hurt my credit score?
Neither directly affect your credit score. Arguably, they can only help your credit score by showing how you can improve it and ways to monitor your score.

However, while they don't play a role in directly affecting your score, by signing up for recommended products, you could temporarily hurt your credit score. Remember that Credit Karma acts as a middleman between you and the credit card issuer or lender. If they connect you to a bank, then the bank could do a "hard pull" on your credit score.

Remember that "hard pulls" will ding your credit score for up to 24 months.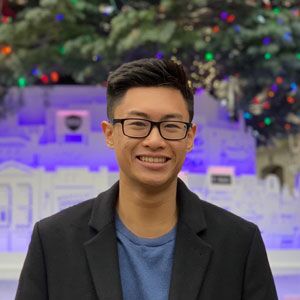 John Ta is an undergrad at the University of Pennsylvania and the founder of Penn's first undergrad personal finance club, Penn Common Cents. As a first-generation college student, he had to learn everything about personal finance on his own and seeks to mend the financial literacy knowledge gap seen almost everywhere. John is currently studying for an MS in Chemistry and a BA in Physics (business & tech concentration), Biochemistry, and Biophysics and is interested in the intersections of finance and healthcare.