Laurel Road is an online lender offering some of the best interest rates and perks for its borrowers. One of the best options for medical and dental students, they seem to favor healthcare workers. Moreover, they charge no application and origination fees and even allow co-signers.
Laurel Road Refinancing Review
Name: Laurel Road
Description: is an online lender offering some of the best refi interest rates and perks around. Being one of the top options for medical and dental students, they favor healthcare workers. Moreover, they charge no application and origination fees and even allow co-signers.
Interest Rates

Repayment Options

Customer Service

Refi Amounts
What Is Laurel Road?
Founded in 2013, Laurel Road is an online-only lender with a strong presence in the loans market. Offering products ranging from student loan refinancing to personal loans, they've since refinanced over seven billion dollars. Laurel Road has developed a simple application to make the loan process as smooth as possible.
How Does Laurel Road Refi Work?
Student loan refinancing (refi) is when a firm like Laurel Road pays off your existing student loans but assigns you a new loan at a (usually) lower interest rate. Refi is one of the best ways to save money by reducing the interest rates on your old student loans.
Laurel Road's refi process is designed to be as easy as possible. You can get a rate quote in minutes and completely free of charge. Customer service is available along the way to assist you if you need it at any step.
Should I Refi My Federal Student Loans?
On the surface, your new refi option could have a lower interest rate than your federal student loans. However, remember that federal student loans have a lot of benefits.
For example, federal loans offer public service loan forgiveness, interest-free deferment and forbearance, discharge options, and income-based repayment plans. No private lenders provide such benefits.
You must think through the refinancing decision carefully. If you plan on taking advantage of the federal benefits, then refi might not be the best choice for you.
Laurel Road Rates, Terms, and Fees Summary
Laurel Road offers some of the best rates available on the market and doesn't cap the amount you can borrow. Furthermore, they also charge no origination nor application fees.
Though, they do require you to refi at least $5,000 and favor those working in the healthcare industry.
Note: the rates displayed below are for nonhealthcare student loan refi. Check out Laurel Road's website to find rates for residents, Parent PLUS loans, or healthcare professionals.
Laurel Road Rates, Terms, and Fees Summary
Variable Rates (APR)
1.99–6.10%
Fixed Rates (APR)
3.00–6.20%
Loan Terms
5, 7, 10, 15, and 20 years (contact customer service for more)
Loan Amounts
$5,000 minimum; no max
Fees
None! Only late payment fees of $28 or 5% of payment, whichever less
Payment Frequency
Monthly
Co-signers
Cosigners; release after 36 mo
Residency
U.S. Resident or permanent resident
Pros & Cons Of Laurel Road
Generally speaking, Laurel Road is one of the best refi options around. With competitive rates, excellent benefits, and a great customer service team, there's a lot to like. In fact, Laurel Road has some of the best perks for medical and dental students that I've seen. Furthermore, they're available across all 50 states.
However, they do require high credit scores and incomes. In addition, they seem to favor healthcare workers, which could be a pro or con, depending on your background.
Pros:
Low and competitive interest rates
Awesome perks for medical and dental students
Available across all 50 states
Great customer service
No application or origination fees
Co-signers allowed
Free and easy rate quotes
Cons:
High income required
Low DTI required
Minimum credit score of 700
Need to refi at least $5,000
Co-signer release after 36 months
How Do I Qualify For Laurel Road Refi?
Laurel Road favors people with great credit scores and incomes. Unsurprisingly, Laurel Road also likes to see low debt-to-income (DTI) ratios. Though, being a top lending option, they have somewhat high entry barriers. Moreover, it seems like Laurel Road prefers to refi loans for those in medical or dental school.
Financial Requirements
Minimum credit score of 660
DTI ratio less than 43%
Co-signers eligible
Individual Requirements
U.S. citizen or a permanent resident with green card
Working professional with four-year undergrad or graduate degrees OR an associate's degree working in specified medical fields
Must have graduated from a Title IV public or private institution authorized to receive federal financial aid
Laurel Road specifically differentiates eligibility for those graduating with associate degrees. If you're looking to refi associate degree loans, you must have worked for at least 12 months in one of the following fields of study:
Cardiovascular Technologist (CVT)
Dental Hygiene
Diagnostic Medical Sonography
Paramedics
Nuclear Technician
Nursing
Occupational Therapy Assistant
Pharmacy Technician
Physical Therapy Assistant
Radiation Therapy
MRI Technologist
Respiratory Therapy
Surgical Technologist
Make sure you fully understand the eligibility reqs. They vary for the type of degree you're looking to refi.
What Are Laurel Road Repayment Options?
Laurel Road provides standard loan terms of 5, 7, 10, 15, and 20 years. Interestingly, Laurel Road seems to have options to have alternative loan terms as long as you contact customer service. This fact makes Laurel Road the only other firm outside of Earnest to offer non-standard terms. Though, if you're looking for personalized loan terms, make sure to check out Earnest!
Furthermore, Laurel Road offers the automatic electronic fund transfers (ETF) incentive. If you choose to enable auto payments through ETF, your interest rates decrease by 0.25%.
Generally speaking, you're expected to make monthly payments. If you want to make additional payments, no fees are applied. Instead, your extra payments will apply to your principal balance. This is a great way to shred through your loans.
Deferment & Forbearance
Laurel Road has great deferment and forbearance options.
Since they seem to favor medical and dental students, it's no surprise that they offer so many perks and benefits. Laurel Road allows doctors and dentists in residency to defer making full payments on their loans up to 6 months after they complete their residency and fellowship. In fact, they only have to pay a minimum of $100 per month until they finish. Unfortunately, interest will accrue during this period and must be paid off at the end of the reduced payment period.
Furthermore, Laurel Road allows borrowers to apply for forbearance in times of economic hardship. These forbearance periods are pretty standard. They allow for you to meet forbearance payments for periods of one to three months, totaling less than 12 months over the lifetime of the loan.
In the event of death or permanent disability, Laurel Road will forgive all remaining student loan debt. This is a nice note since some other competitors don't explicitly mention this.
Unfortunately, I didn't see any notes about academic deferment.
Is Laurel Road Safe?
It's not my right to be the judge or jury on this matter, but I can provide facts to help you make a justified decision.
Since its launch, Laurel Road hasn't run into any problems with the Federal Trade Commission. Furthermore, they haven't experienced any data breaches. Despite their clean record, there's always a risk when submitting your sensitive personal and financial information online. Given today's day and age, there's no real way to avoid this problem. Trust the security holds up.
Laurel Road's customer reviews are pretty good overall. The Better Business Bureau rates them "A-" and TrustPilot consumers rate the firm 4.3/5.0 stars. Reviewers have said that Laurel Road is "quick and easy," "excellent," and the "best experience [out there]."
Will Laurel Road Hurt My Credit Score?
Yes and no. Laurel Road won't hurt your score if you only get a rate quote. However, if you proceed with finalizing the loan, your credit score may be affected.
In these first steps, Laurel Road only does "soft pull" on your credit score. "Soft pulls" don't affect your credit score. However, in finalizing the loan, Laurel Road will do a "hard pull" for your full, in-depth credit history. "Hard pulls" can hurt your credit score.
Though, inquiries play a small part in your credit score (10% in FICO score). Moreover, they disappear after 24 months. Nothing much to worry about if you don't rapidly open too many credit cards or loans.
How Is Laurel Road's Customer Service?
Seeing their TrustPilot reviews, it seems like Laurel Road has excellent customer service. Consumers mention that they are "friendly" and are an "excellent loan company."
Laurel Road is well aware that running completely online can make things difficult for borrowers. Thus, they offer customer service via phone or email.
What I Wish Was Different About Laurel Road
As a whole, Laurel Road offers some of the best rates and perks available.
However, I wish they'd have more robust academic deferment and forbearance options. While they offer many benefits for their medical and dental students, they lack opportunities for other advanced degrees.
Moreover, they seem to like those in the healthcare industry. It would be nice if Laurel Road would be more open to refinancing associate degree loans for other sectors.
How Does Laurel Road Fare Against Competitors?
Top Student Loan Refinance Companies
How To Get Started On Laurel Road
Laurel Road's application process is designed to be simple and straightforward. To first get a rate quote, you'll have to fill out a short form. The initial process is split into several brief portions, asking for your personal, academic, and employment info.
If you end up liking your rate and loan term, then you can proceed with finalizing the loan. In these next steps, you'll submit documents to prove your identity, income, and existing student loans. After proper submission, waiting time until approval ranges from three to six days.
If you have any questions, reach out to Laurel Road's great customer service.
Should You Use Laurel Road?
I think Laurel Road is an excellent choice for anyone working within the healthcare space. With awesome rates and perks for medical and dental students, not many other options can compete.
Even if you don't think you'll meet their criteria, it's worth getting a rate quote anyways. Getting a quote is entirely free of charge and takes minutes.
And even if you feel like your rate quote is good, make sure you look into other options like Earnest, ELFI, or SoFi. Each offers free rate quotes that might end up being a better fit for you. You wouldn't want to spend thousands more because you didn't check out Laurel Road's competitors.
You'll be working with your lender for years to come. It's worth checking out all your options before committing to anyone of them.
FAQs
Will my credit score get really damaged if I apply for multiple loans?
This is a great question that comes to mind after you apply for many refi options.

Per FICO, your credit inquiries will only be dinged once across all student loan refinancing inquiries done in a short time. The exact effects are a bit complex and can be read in detail on FICO's website.
If I only have a credit score of 700, should I bother applying?
Absolutely. There's no reason to not try because getting a rate quote is free of charge. Also, if you're denied, Laurel Road will explain why so you can fix yourself up for other apps. You miss 100% of the shots you don't take!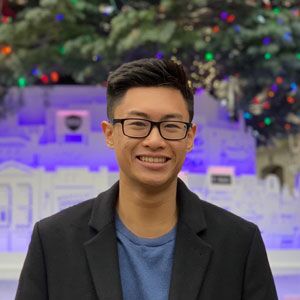 John Ta is an undergrad at the University of Pennsylvania and the founder of Penn's first undergrad personal finance club, Penn Common Cents. As a first-generation college student, he had to learn everything about personal finance on his own and seeks to mend the financial literacy knowledge gap seen almost everywhere. John is currently studying for an MS in Chemistry and a BA in Physics (business & tech concentration), Biochemistry, and Biophysics and is interested in the intersections of finance and healthcare.