Adulting isn't easy. But if you have a steady job, you've gotten the hardest part behind you. Now you can think about how you want the rest of your life to look.
For some of you, that might mean saving up for the downpayment for a house. Or paying off your student loans.
For others, it could mean starting their own business, taking the trip of a lifetime, or helping take care of their aging parents.
Regardless of whether you know what your next steps will be or not, here's a few ideas for you:
1. Pay Yourself First
The biggest financial mistake most people make is that they spend their paychecks and save whatever is leftover.
What ends up happening is that everything gets spent on rent, meals, games, and other bills, and you end up not saving a single penny.
For that reason, the single most important thing you can do to start to build wealth is to pay yourself first. This means you save money before your paycheck even hits.
You do this by participating in the retirement plan at work (a 401K) and by opening an IRA. You should also have your money deposited into 2 separate accounts via direct deposit. 1 for spending and 1 for saving.
Aside from the 401k and IRA, you can use an app like Robinhood to start investing even more in the stock market. I invest in ETFs so that I don't have to worry about picking individual company stocks!
If you already have a 401k or an IRA, then you need to make sure you are making the appropriate investments for your goals.
That's why we love a company called Blooom. They will analyze your 401K and IRA for free and let you know if you are investing it properly. Try it out.
2. Protect Your Family By Leaving Them Money Through Life Insurance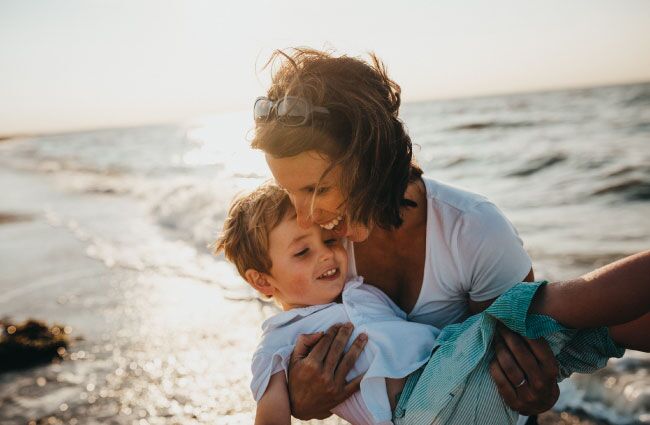 My dad died from cancer when I was a seven-year-old, and it destroyed my family's financial stability. From a financial standpoint, my mom never recovered.
If you don't have millions of dollars ready to leave for your loved ones, getting life insurance from Bestow will help you make sure that your family is taken care of if they can no longer rely on your income.
You'll be surprised to learn that you can get up to $1 million in life insurance for as little as $5 per month. Bestow offers affordable term life insurance plans, and they don't even require a medical exam.
The best part is that it only takes a few minutes to get your free quote (instant decision if approved). You don't even need to give them your name, email, or phone number to get a quote.
This means you can get your free quote in less time than it takes you to brush, floss, and get ready for bed.
3. There's No Shame In Asking For Help
If you're doing a kick-ass job of saving money, but you'd prefer to get a root canal than research how to invest your money, then you probably need to talk to a financial advisor.
Facet Wealth is an award-winning online financial planning firm offering affordable, innovative planning services for everyday American families, that allows you to meet with a financial advisor via video calls so that you can get expert advice when you need it.
They'll guide you through your financial life, help you make a comprehensive financial plan, ensure you make quality investments, and help you reach your wildest financial goals.
Their pricing starts at $40 per month, which means it'll cost you less than date night to have peace of mind knowing you're managing your money like a pro. Literally.
Schedule a free introductory call with Facet Wealth to learn more and see if it's the perfect fit for you.
4. Save Thousands Of Dollars By Building Amazing Credit
A lot of people make a big mistake by focusing on cutting out their daily coffee to save money, yet they don't take the time to check their credit and get a solid credit score.
The reason your credit score matters is because having stellar credit will save you a lot of money.
You'll save money because when you apply for a mortgage, auto loan, or any other type of loan, you'll qualify for the lowest interest rate.
Even if you already own your home, having fantastic credit means you can refinance your mortgage (or even your student loans) and qualify for a lower interest rate. When we are talking about loans worth tens of thousands or hundreds of thousands of dollars, you could save thousands of dollars in interest.
Credit Sesame and Credit Karma are awesome sites that let you check your credit report and credit score for free, and give you tips to improve your credit score.
5. Make Your Money Work Harder So You Don't Have To
You work really hard, so the last thing you want to do is let your hard-earned cash get wasted.
If you want to make your money work as hard as you do, you'll benefit from opening a high-interest savings account at CIT Bank. If you still have the same bank account that you opened when you were a kid or started college, chances are you are missing out on a lot of money.
Typical savings accounts at places like Chase, Wells Fargo, and Bank of America offer interest rates that are a fraction of what you could be earning from a high-interest savings account at CIT.
CIT's high-interest savings account has no monthly fees, offers an interest rate that's 20x higher* than the average savings account, and has no account minimums (they require a $100 opening balance, but then the minimum goes away). In order to qualify for the highest interest rate you only need to deposit $100 monthly!
That means more of your money stays in your pockets and helps you reach your dreams more quickly. Open a high-interest savings account now and let your money start working for you!
*According to FDIC data.

Camilo is a personal finance expert and the Co-Founder and CEO of The Finance Twins. I was raised in poverty by a single mother and had to learn everything about personal finance on my own. I have been featured on Forbes, Business Insider, CNBC, and US News. Earlier in my career, I worked as an investment banking analyst on Wall Street at JPMorgan Chase & Co., and I have an M.B.A. from Harvard University and a B.S.E. in finance from the Wharton School of the University of Pennsylvania.