Credible is an online loan marketplace that simplifies the loan hunt application process, helping you easily and quickly find the perfect loan. They have an excellent reputation, and their services are completely free-to-use. However, they don't offer loans from every lender possible and only act as the middleman in the process.
Credible Review
Name: Credible
Description: is an online loan marketplace that simplifies the loan hunt application process, helping you easily and quickly find the perfect loan. They have an excellent reputation, and their services are completely free-to-use. However, they don't offer loans from every lender possible and only act as the middleman in the process.
Ease Of Use

Customer Service

Interest Rates

Options
Summary
Credible is an online loan marketplace that simplifies the loan hunt application process, helping you easily and quickly find the perfect loan. They have an excellent reputation, and their services are completely free-to-use. However, they don't offer loans from every lender possible and only act as the middleman in the process.
Pros
Simple, streamlined application
Excellent consumer reputation
Low and competitive interest rates
Cons
Middleman; not the actual lender
670 minimum credit score needed for refi
Loans must meet minimum amounts
What Is Credible?
Credible is an online-based loan marketplace similar to Upstart, and was founded in 2012 simplifying the loan hunt process. Based in San Francisco, they've since established themselves as one of the top competitors in the industry. Credible prides itself on creating a streamlined and straightforward application to make it easy to find your perfect loan.
It's important to remember that Credible is not a lender, credit union, or bank. Instead, they serve as a middleman to connect you to a loan that best suits your needs.
What's A Loan Marketplace?
Imagine applying for a job. You look at the info and see if it would be a good fit for you. You then fill out one application after another, submitting 10, 25, maybe even 100 applications. It can get tedious and mind-numbing.
What if you had a tool to fill out one application submitted to over 100 companies at once?
Finding a loan is almost exactly like finding a job. Except Credible exists to make the entire process as simple as one application.
All you need to do is fill out one form, and then Credible connects you to potential lenders. This method saves a ton of time and makes the loan-hunting process as stressfree as possible. Furthermore, Credible lenders offer some of the lowest and most competitive rates available.
What Products Does Credible Offer?
Credible helps connect consumers to a variety of loans, including:
Mortgages
Mortgage refinancing
One of the remarkable things about Credible is that they charge no fees for their services. Literally, you can try their loan marketplace for zero dollars.
Credible divvies up the entire loan hunting process into three, easy steps:
1. Fill out a short prequalification form to see individualized rates and find loan options that best fit your situation
Credible asks a few simple questions to estimate what your credit profile looks like. For example, they'll want to know what school you're attending, what your income looks like, and how much you want to borrow. Afterward, Credible's technology matches you with the best options available.
Filling out this form has absolutely no obligations. You won't have to pay a dime, nor will it touch your credit score.
2. Compare loan options and select ones that best fit your requirements
Once you've completed the prequalification form, you'll be able to see personalized loan options from up to eight lenders. These numbers are quotes based on the information you provided Credible earlier.
3. File a full application with the lender
Although you might see the perfect loan based on rate and term length alone, consider your options carefully. Explore whether the lender offers forbearance and deferment options to help you through tough times. Moreover, since Credible doesn't provide loans from every lender possible, we recommend you check out your options on ELFI and Earnest.
Credible also has "Best Rate Guarantee," where they'll give you $200 if you close a loan with a better rate without Credible. That's how confident Credible is about their loan matching process. No other competitor does this, cementing Credible's reputation.
What Are Credible's Basic Requirements For Loans And Refi?
Generally speaking, it's hard to sum up all of Credible's requirements to qualify for a loan or refi because it consolidates so many lenders in one space. Each lender is unique, so it would be impossible to put everything into a few bullet points.
However, generally speaking, Credible requires applicants to:
Be 18 or older
Be a U.S. citizen or legal resident with a Social Security number (SSN)
Have a minimum credit score between 670 to 700 for refi
Meet minimum income requirements
Have a low debt-to-income ratio
Loan a certain amount at a minimum
Each loan has some specific or stringent requirements, but these are the ballpark requirements. For example, private student loans and refi require you to be an eligible student, whereas mortgages will need more information about your income and credit history.
Private Student Loans
Finding the perfect private student loan you need for tuition, room and board, transportation, food, or the latest tech has never been easier. Credible loans have some of the lowest and most competitive rates in the market. They also offer a ton of guaranteed benefits by finding loans with them, such as:
No origination fees
Zero prepayment fees
Besides, you can apply alongside a co-signer, which Credible claims to boost your qualification chances threefold. Many lenders offer co-signer release, which is excellent news for anyone considering co-signing for their loan. An additional innovative feature is the ability to compare your rates with different co-signers.
Credible offers loans from well-known and trusted lenders such as Ascent, Citizens Bank, College Ave, Discover, and Sallie Mae.
Student Loan Refinancing (Refi)
Credible makes the refi process as simple and streamlined as possible. The entire process is entirely free as well, charging no origination, service, and prepayment fees.
You can refi federal student loans, private student loans, or Parent PLUS loans. Refinancing your loans can save you thousands of dollars.
For example, imagine you currently had a $100,000 private student loan with a 5% APR and a loan term of 10 years. Every month you'd be paying around $1,000 to pay your loan off in time.
However, if you refi your loan successfully to a 3% APR with the same loan term, you'd end up saving about $11,000. For just an hour or two of applying and researching refi options, you could save thousands of dollars.
Credible refi can help relieve co-signer obligations on your existing loans as well.
While refi might sound exciting, it's crucial to remember that these are big decisions and that you should thoroughly research your options. Always check out other lending marketplaces to see if they have better choices!
Should I Refi My Federal Student Loans?
On the surface, your new, shiny refi option could have a lower interest rate than your federal student loan. Despite this, it's key to keep in mind that federal student loans have many benefits.
For example, these government loans offer public service loan forgiveness, interest-free deferment and forbearance, discharge options, and income-based repayment plans. No private lender provides such assistance.
A decision like this should be carefully thought out in terms of whether you plan on taking advantage of any of the federal benefits, and the savings you could get from refinancing your loans.
Read more about whether you should refinance your student loans!
Personal Loans
Have you been searching for ways to consolidate your debt, refinance your credit card debt, or improve your home? Credible can help match you to the perfect personal loan.
Personal loans range from $1,000 to $100,000 and could save thousands of dollars, depending on the situation. Typically, once you complete the loan application and qualify, you get your money within the next business day or week.
Credible offers personal loans from trusted banks, lenders, and credit unions such as Goldman Sachs, SoFi, LendingPoint, and Avant.
Mortgages
Credible makes the mortgage hunt process as "pain-free" as possible. As a mortgage broker, they help you find the best options possible.
Their application process is similar as usual, but Credible mortgages can be completed end-to-end through their website. All you need to do is submit some additional documents, including your tax returns, and let them process the mortgage.
They even offer loan officers with decades of experience to assist you. These officers are not commissioned, so they have no reason to try to upsell you a mortgage.
Other benefits include data privacy, automatic updates, and bank integration. The Credible mortgage process is simple and straightforward, modernizing the typical lengthy application process.
Mortgage Refinancing
If you currently are in a bad mortgage situation with high rates and lengthy loan term, you may want to consider mortgage refi. Per the theme of this article, Credible strives to make that process as streamlined as possible, minimizing the forms involved.
Amazingly, you can complete the entire process end-to-end on Credible's website. You begin by completing the prequalification form to uploading documents as the final step.
Unfortunately, Credible lenders typically charge a 2-6% commission for refinancing your loan. Other fees such as origination charges, appraisal fees, mortgage or homeowners insurance, and application fees may arise, depending on the lender. It's important to look through the other charges carefully since they vary wildly by the lender.
However, using Credible to find your loan is entirely free. It's just the process of finalizing the refi that could incur charges.
Is Credible Safe?
It's not our right to be the judge and jury on this. Though, we can provide you the facts to help you make a justified decision.
Credible hasn't run into problems with the law nor has reported any major data breaches since its founding. However, there's always an inherent risk when giving your sensitive personal and financial information online, even to trustworthy companies.
Moreover, Credible is highly rated, furthering its trustworthy reputation. The Better Business Bureau rates the firm an "A+," and TrustPilot consumer reviews rank Credible 4.7/5.0 stars.
Will Credible Hurt My Credit Score?
Credible itself won't hurt your credit score, but the lender they connect you with can touch your credit score.
Remember that Credible is merely the middleman in the transaction. While Credible will only do a soft pull on your credit score, the actual lender will do a hard pull to fully gauge your credit history.
However, credit inquiries play a small part in your total credit score (10% in FICO score), and hard pulls only last 24 months.
How Does Credible Make Money?
It's probably hard to believe that Credible is offering all these well-designed services for free. Heck, even their user interface is crisp, clean, and easy-to-use. But where are they getting their money?
Credible makes money for every successful loan. Think of Credible as a merchant selling art. If the merchant sells the art, then they can take some commission for their marketing services.
It's actually in Credible's best interest to try and match you to the best possible loans. Remember that every signed dotted line makes them the most money, not necessarily just showcasing random loans.
Thus, you can see Credible's keen efforts to make the loan hunting process as streamlined as possible. Beautiful graphics and a pleasing dashboard make everything feel as friendly and open as possible.
How Is Credible's Customer Service?
Being an online-only service provider, it's vital to have good, accessible customer service options. Credible offers a few different options:
What I Wish Was Different About Credible
To be honest, after thinking about this for a while, there's not a whole lot Credible can change to become better. They're currently one of the best loan marketplace tools out there.
Some of their negatives are problems that every other loan marketplace faces, including requirements on U.S. citizenship and that quotes can differ between the actual lender offer. The latter is because Credible only acts as a middleman, and sometimes, information between them and the lender can get a little messy, leading to misunderstandings and misinformation.
Perhaps they could extend their lending partners to provide more options, but then again, no lending marketplace is perfect in this aspect either. Thus, we'd recommend using other lending marketplaces, such as LendKey, to get a wide variety of options.
How To Get Started With Credible
Credible is incredibly easy to get started with. All you need to do is first fill out the quick and simple prequalification form, explore through your options, and submit a full application to close the loan.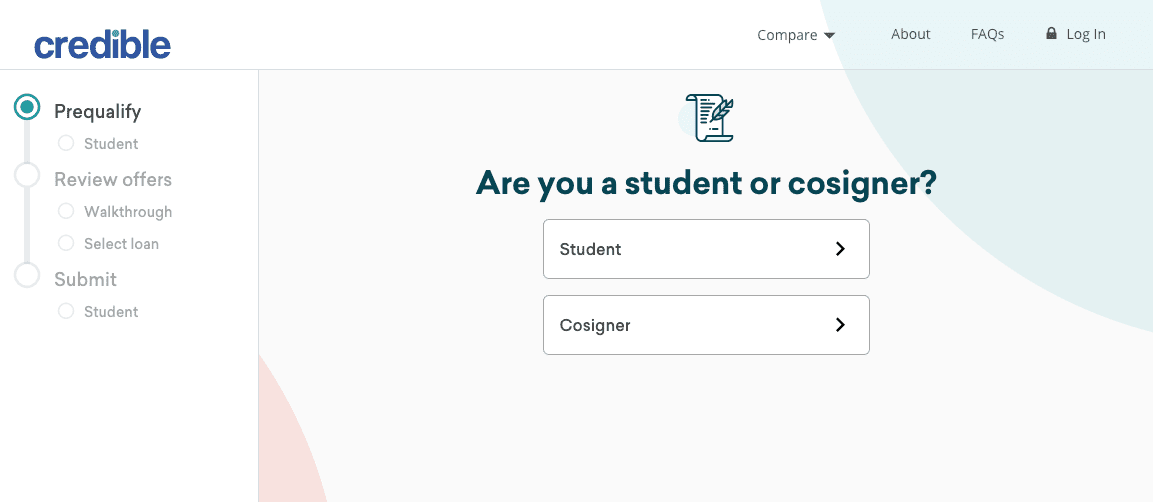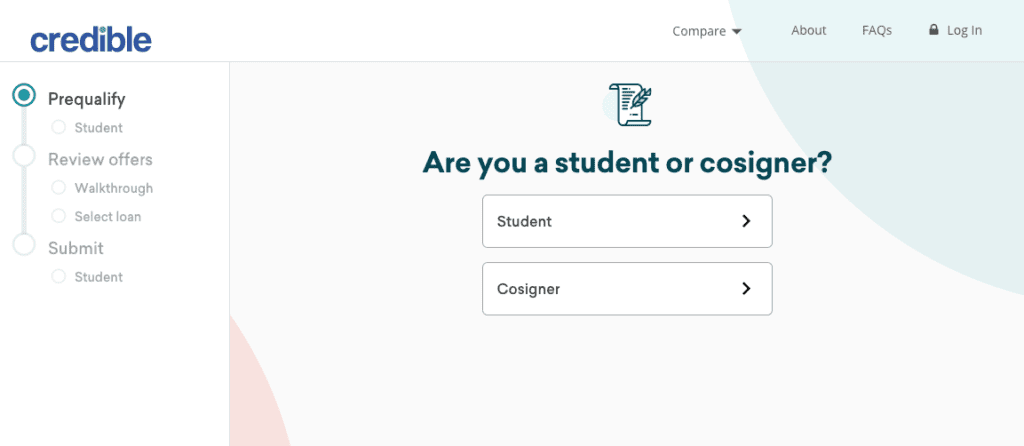 Credible's entire website is beautifully designed, and the user experience is as sleek as it can be. Remember that the whole service is free and doesn't hurt your credit score, so it's worth checking out if you're considering getting a loan for anything.
Should You Use Credible?
If finding the perfect loan is on your mind right now, we believe Credible is one of the best ways to be matched to a loan best suiting your needs and credit history. Given that the tool is entirely free-to-use and that many previous consumers have rated them highly, they are a great place to start.
Though, it's worth mentioning that Credible doesn't offer loans from every lender possible. Thus, it's still an excellent idea to look into LendKey, Earnest, and ELFI to see some other loan options. You wouldn't want to miss out on potentially lower rates because that lender wasn't in Credible's network.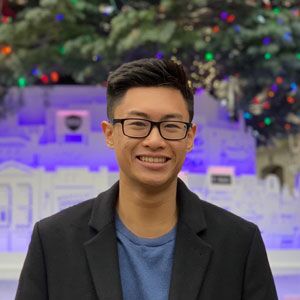 John Ta is an undergrad at the University of Pennsylvania and the founder of Penn's first undergrad personal finance club, Penn Common Cents. As a first-generation college student, he had to learn everything about personal finance on his own and seeks to mend the financial literacy knowledge gap seen almost everywhere. John is currently studying for an MS in Chemistry and a BA in Physics (business & tech concentration), Biochemistry, and Biophysics and is interested in the intersections of finance and healthcare.