Credit Karma offers robust credit score monitoring, free-to-use tax filing, high-yield savings accounts, product recommendations, and various calculators to help you take control of your personal finances.
Credit Karma Review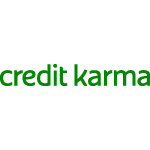 Name: Credit Karma
Description: offers robust credit score monitoring, free-to-use tax filing, high-yield savings accounts, product recommendations, and various calculators to help you take control of your personal finances.
Price

Credit Alerts

Customer Service

Extra Perks
Summary
Credit Karma offers robust credit score monitoring, free-to-use tax filing, high-yield savings accounts, product recommendations, and various calculators to help you take control of your personal finances.
Pros
Free credit score monitoring and reports
Robust credit score tools
Free tax filing software
Cons
Lots of in-app ads
Only showed VantageScore 3.0
Not 100% accurate
I've used Credit Karma to track my credit for years and I've been very happy with it for many reasons.
What Is Credit Karma?
Credit Karma is the premier credit score company offering robust tools and perks for their users, including, but not limited to:
Free monthly credit scores
Yearly free full credit reports
Credit cards, loans, and other product recommendations
Free-to-use tax filing tools
Credit simulators
Calculators
Founded in 2007, they've amassed over 100 million users and established a firm footing in the personal finance world. You've likely seen their ads on TV and thought about their products a little.
You've come to the right place if you're looking to learn more about this behemoth.
How Does Credit Karma Work?
Credit Score Monitoring
If you've ever tried applying for a credit card, auto loan, or mortgage, you probably know how vital your credit score is. Also, a low credit score can make it difficult to even rent an apartment and could prevent you from even getting a job.
Consequently, keeping your credit score in a good range is critical. Understanding the factors behind a credit score is one of the best ways to start improving it.
One of Credit Karma's primary features is providing its users with free monthly VantageScore 3.0 updates from Transunion and Equifax. Furthermore, they display a breakdown of your credit score that can pinpoint areas of improvement. Unfortunately, they don't offer FICO score updates.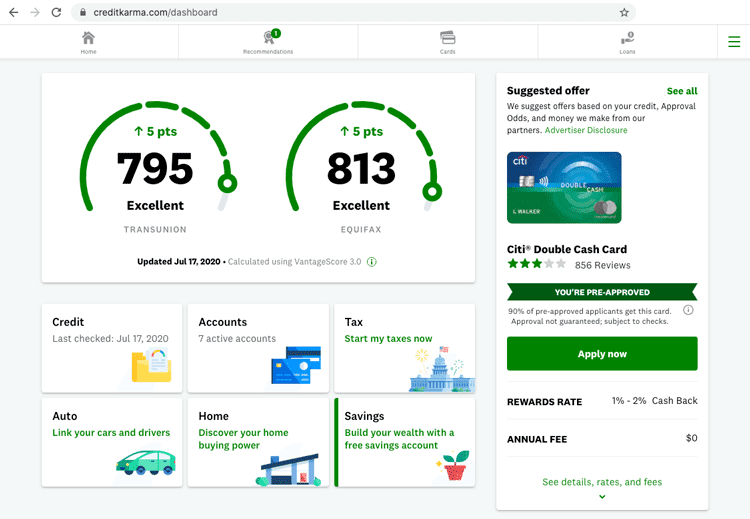 On top of these score updates, Credit Karma will immediately alert you when significant changes occur to your credit score and provide free, full credit reports every year.
These perks don't stop there. Credit Karma also suggests ways to improve your credit score. For example, their Credit Coaching tool provides tailored help based on your current credit history.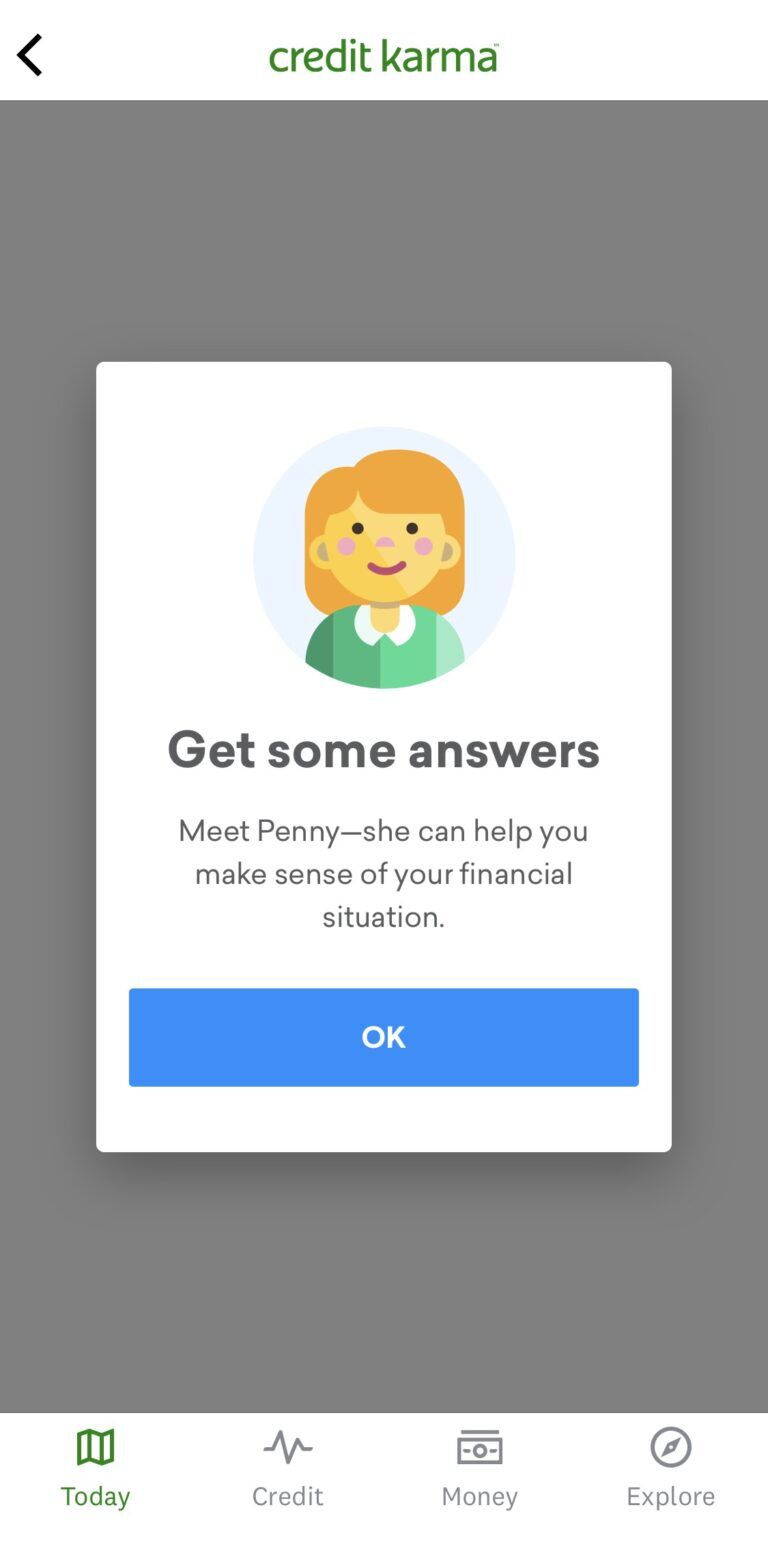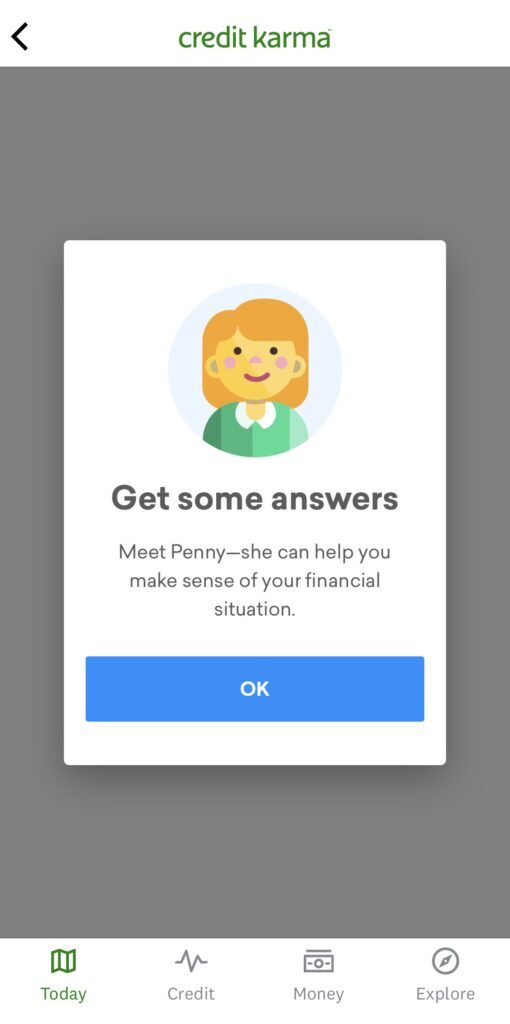 They even have a robot advisor named Penny that you can "chat" with you about various personal finance-related topics. If you're looking to figure out how to buy a home, open a credit card, or save money, she can help guide you.
One of the coolest things Credit Karma has is its credit score simulation tool. If you plan on making any financial moves that you fear could affect your credit score, the simulation tool can give you a sense of what could happen.
Free Tax Filing
Everyone loves tax season.
Credit Karma Tax lets you electronically complete your federal and state tax returns free of charge. In addition, they even provide tips and tricks, a tax support team, and audit defense, all for zero dollars.
In fact, once you've filed with Credit Karma, you can import the previous year's return to make filing in the future even easier.
Though, it's worth noting that Credit Karma Tax doesn't compete super well with some of the biggest names in the industry, such as H&R Block and Turbotax.
Product Recommendations
Credit Karma showcases a wide variety of products such as credit cards, auto loans, and mortgages. Their recommendations are tailored to your user behavior, credit score, and approval odds.
For example, Credit Karma lists cards that I am "pre-approved" for, meaning that I have over a 90% chance of successfully applying for it. Moreover, they categorize your approval odds by five tiers: excellent, very good, good, fair, and poor. These groupings can help give you an idea of your chances of getting your dream card.
Calculators
Credit Karma has a wide array of Financial Tools to get a grasp of your financial situation. For example, among their arsenal are:
Debt repayment calculator: shows you how long it'll take to pay off debt
Simple loan calculator: predicts how much you'll have to pay monthly for a loan
Amortization calculator: displays total payment breakdown on debt repayments
These tools are free-to-use and help you figure out the nuances of debt repayment and your credit score.
What Makes Credit Karma Unique?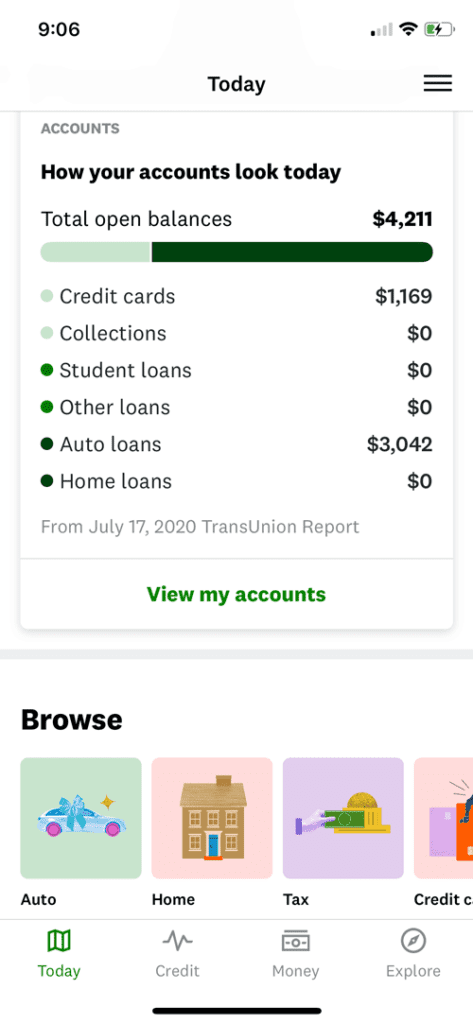 Although competitors like Credit Sesame also offer free credit score updates and monitoring, notably, Credit Karma provides one-of-a-kind credit simulators and Penny the personal finance advisor. Moreover, their UI is beautiful and easy to use. Simply put, they offer many robust tools that place them as one of the best credit monitoring companies out there.
Furthermore, no other personal finance firm offers free tax filing software. This is a pretty cool addition, considering how Credit Karma started originally with giving away free credit scores.
Considering they also offer high-yield savings accounts that are FDIC insured up to $5,000,000 in deposits just goes to show how far ahead Credit Karma is against its competitors. In addition, this deposit account has an APY that is much higher than a standard savings account and charges no minimum fees.
Pros & Cons Of Credit Karma
Generally speaking, Credit Karma is a fantastic tool to use to monitor your credit score. Not only do they offer a wide variety of tools for you to use to build your credit score, but they also offer countless other benefits for you to advance the state of your personal finances.
Even their cons are some negatives that almost every other free-to-use firm faces. For example, no competitor offers free FICO scores.
However, Credit Karma has two major flaws. First is their advertising. Since this is how they make their money, they will place things right in front of your face. A small price to pay for their endless free-to-use tools.
The second flaw is that the VantageScore isn't as widely used as the FICO score. A 700 VantageScore is not the same as a 700 FICO score. Furthermore, most lenders use the FICO score to determine your creditworthiness.
This difference is substantial and is why you shouldn't use Credit Karma's credit scores as the be all end all. The main takeaway: use Credit Karma as a general indicator of your credit health.
Pros:
Free credit score monitoring and reports
Robust and free-to-use credit score tools
Free tax filing software
Calculators
Personalized product recommendations
Cons
Relentless advertising
Doesn't provide Experian scores
No FICO scores
Not 100% accurate
How Much Does Credit Karma Cost?
The theme of this article is that Credit Karma costs zero dollars to use.
Everything on their site is free-to-use with no strings attached. Not to sound like a broken record, but it's worth trying out Credit Karma if you haven't already.
Is Credit Karma Safe?
Generally speaking, we believe Credit Karma is safe and legitimate. However, as with providing personal identification and financial information online to even trustworthy companies, there's always a risk.
Credit Karma doesn't have a clean track record with the law. In 2014, they settled charges with the Federal Trade Commission after failing to secure users' sensitive personal information.
On the bright side, as a result of the ruling, Credit Karma must undergo security assessments every other year until 2034. Credit Karma knows that they are being watched, which can be comforting from a security standpoint.
Moreover, if someone were to hack your account and tried opening a credit card, Credit Karma asks questions from your personal credit history to ensure it's you. These questions are hard for hackers to answer since they cite major personal transactions with specific detail that only you'd remember.
Will Credit Karma Hurt My Credit Score?
Credit Karma can't directly affect your credit score. Arguably, Credit Karma can only help benefit your credit score by providing insight into how you can improve it and ways to effectively monitor your score.
However, while Credit Karma doesn't play a direct role, by signing up for recommended products, you could hurt your credit score. Remember that Credit Karma acts as a middleman between you and the credit card issuer or lender. If they connect you to a bank, then the bank could do a "hard pull" on your credit score.
"Hard pulls" will ding your credit score for up to 24 months.
How Does Credit Karma Make Money?
This is likely a question you've been thinking about throughout this article.
Considering how many free services Credit Karma offers, it must seem crazy to think that they even make money.
Credit Karma turns a pretty penny, generating about $1 billion in revenue in 2019. Their primary source of income is through advertising and affiliate marketing.
Every time you sign up for a product through Credit Karma, they get paid a commission. And with over 100 million users, this money quickly adds up.
This strategy is why Credit Karma can charge nothing for their services. They operate under the assumption that a free-to-use tool will attract more users that will eventually sign up for products. Moreover, it's a brilliant strategy that even brought Intuit to acquire Credit Karma for $7.1 billion.
How Is Credit Karma's Customer Service?
Credit Karma's customer service is online-based.
To submit a help request, you sign in to your account and fill out an online form. This structure allows Credit Karma to keep help requests organized.
Unfortunately, Credit Karma doesn't have a phone-based helpline for consumers.
What I Wish Was Different About Credit Karma?
Credit Karma, as a whole, is an excellent personal finance tool. There are only a few minor things in which it could improve on:
Options to look into your FICO score
Offer human-based customer service options
Even (1) is a problem that pretty much every other competitor faces. Credit Karma is truly an amazing, free-to-use technology.
How Does Credit Karma Fare Against Competitors?
Credit Karma is not only one of the best personal finance tools out there, but might even be the best. Not much stands up against them, and they genuinely offer some premier products and tools.
How To Get Started On Credit Karma
It's effortless to sign up for Credit Karma. To create an account, you'll need to enter your name, email, address, and last four digits of your SSN. Once you're in, you'll be greeted with Credit Karma's beautiful user interface.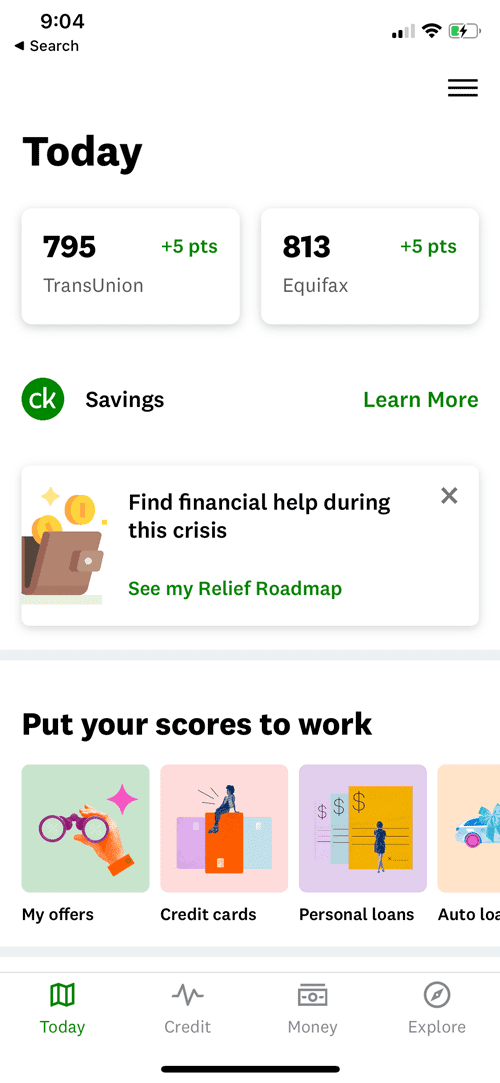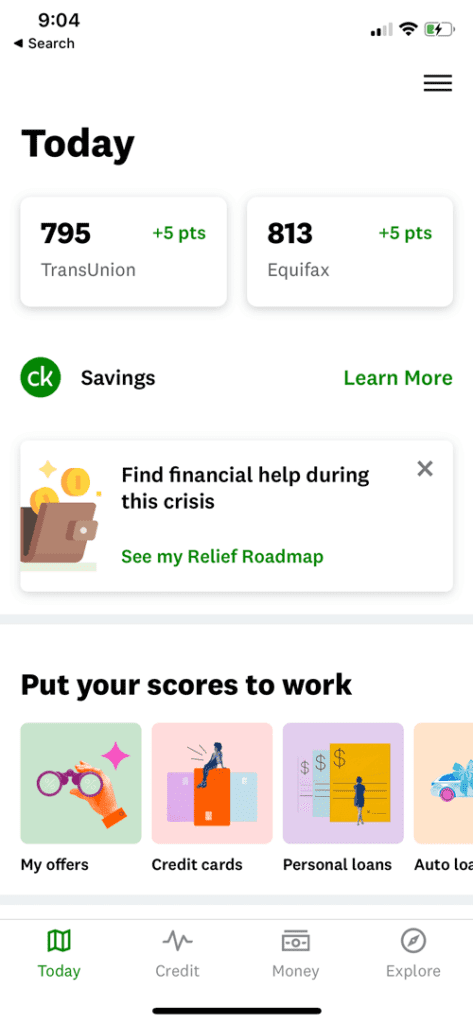 The dashboard displays the following tools mentioned earlier:
Transunion and Equifax VantageScore 3.0
Credit reports
Accounts under your SSN
Free tax filing tools
Auto and home advising
High-yield savings accounts
Recommended products
Personal finance resources
Not to mention you also have access to more stuff like the credit simulation tool, mortgage calculators, and Penny the personal finance advisor. Credit Karma has countless benefits, perks, and machinery on its platform.
Should You Use Credit Karma?
Credit Karma is 100% worth the free investment.
Since Credit Karma provides top-of-the-line credit score monitoring tools alongside countless free perks and benefits that can only better the state of your personal finances, there's no real reason to avoid Credit Karma. Furthermore, having a tool to help keep an eye on your credit score and identify can help keep peace of mind.
We'd recommend making a Credit Karma account concurrently with Credit Sesame, Quizzle, or WalletHub to cast the widest safety net possible across your credit score. Each companies' pros cover the other's cons. Furthermore, they're free to use, so there's no real downside to getting all of them.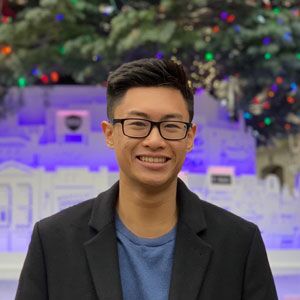 John Ta is an undergrad at the University of Pennsylvania and the founder of Penn's first undergrad personal finance club, Penn Common Cents. As a first-generation college student, he had to learn everything about personal finance on his own and seeks to mend the financial literacy knowledge gap seen almost everywhere. John is currently studying for an MS in Chemistry and a BA in Physics (business & tech concentration), Biochemistry, and Biophysics and is interested in the intersections of finance and healthcare.