Facet Wealth is a next-generation company offering professional financial planning services at affordable prices targeted to young professionals.
It's perfect for those looking for a more hands-on approach rather than trying to do everything on your own.
Facet Wealth Review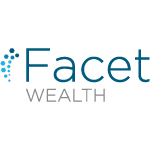 Name: Facet Wealth
Description: is a next-generation company offering professional financial planning services at affordable prices targeted to young professionals.
Pricing

Customizability

Ease Of Use

Dashboard
Summary
If you're looking for an online financial advisor, Facet Wealth offers a compelling product at a competitive price. Due to the fixed price model, you'll want to be thoughtful if you are just starting out since the fees will comprise a larger percentage of your investments.
Pros
Extreme Convenience With Virtual Meetings
Fixed Monthly Pricing
CFPs Don't Earn Commissions
You'll Get Peace Of Mind
Cons
No In-Person Meetings (If You Care)
Price increases have happened multiple times
Bottom Line
If you know you'd benefit from having an expert help you make financial decisions, Facet Wealth is a fantastic option. For as low as $150 per month (fees are based on the services you need), you'll get a dedicated certified financial planner to help you navigate life's financial decisions like a pro, literally.
I started The Finance Twins with my brother because we saw an opportunity to give readers the skills and knowledge they needed in order to make better financial decisions.
Those of you who know us personally know that we grew up in poverty. We were raised by a single mom who struggled to make ends meet. My brothers and I worked extremely hard in school to create a brighter future for ourselves.
But one thing I learned is that it doesn't matter if you went to Harvard, have a Ph.D. in accounting, or are a rocket scientist, it's still stressful to make financial decisions.
And not everyone has the confidence or time to do it all on their own. If that sounds like you, then seeking professional help might just be the best decision you can make.
For those who love reading our site but still want some extra help, we can't recommend Facet Wealth enough.
Facet Wealth Overview
Overall Rating
4.1 out of 5.0
Account Minimum
$0
Pricing
Plans start at $100 per month, although the average customer pays closer to $150-$200 per month ($1,800-$2,400 annually).
Payments
All plans are subscription based and are billed automatically on a monthly basis.
Dedicated CFP
When you sign up, you'll have a single dedicated Certified Financial Planner to work with.
Lifestyle and Expense Planning
All plans include lifestyle and expense planning which includes developing a budget to meet your goals.
Investing Expertise
Your CFP will work with you to develop an optimal investment strategy. The days of stressing over investments are over.
Cancellation Fees
None
Other Benefits Included:
Financial education program

On-demand access to the Facet Wealth online portal

Flexibility to increase range of services on-demand, so Facet Wealth can grow with you.
Schedule Your Free Call
What Is Facet Wealth?
Facet Wealth is a next-generation financial services company aiming to make expert financial advice available at affordable prices. The company's secret sauce boils down to three components: its proprietary technology platform, transparent pricing, and their focus on service.
Their proprietary technology platform redefines financial life management and enables the company's Certified Financial Planners (CFPs) to deliver a game-changing client experience at an affordable price.
All financial advisors at Facet Wealth have the CFP designation which is generally recognized as the highest standard in the personal financial planning industry.
Facet Wealth's transparent pricing means that you know exactly what to expect at a given price point. And Facet Wealth empowers its in-house financial planning team to only focus on providing the best financial planning services by aiming to eliminate conflicts of interest. In fact, your dedicated CFP is not even involved in determining the price you'll pay so that their primary focus is simply helping you.
Traditional investment advisors receive commissions from the products their customers use. In addition, financial advisors at traditional firms are required to generate new business and find new customers, which takes their focus away from providing the best service possible to their existing clients.
Facet Wealth eliminates both of those problems.
In fact, their certified financial planners receive a base annual salary and bonus based only on customer satisfaction. No commissions from recommending specific products. Additionally, they are not responsible for recruiting new customers, so nearly 100% of the financial advisors' time is spent advising clients. The CFPs are not even involved in determining the pricing of your plan, which is pretty awesome as there are no awkward conversations.
How Does Facet Wealth Work?
Facet Wealth is a full-service financial planning firm but differs from a traditional financial planning company in that all meetings take place virtually. If you've ever been on a skype or Facetime call, then the meetings will feel familiar to you.
In order to work with Facet Wealth, you simply schedule a complimentary introductory video call to learn more.
During the call, a client relationship manager will answer your questions, describe the process, and assess your needs. During that call, they'll get a sense of the services you require and determine your price.
Based on that initial video call, they'll also assign you a dedicated financial planner who will work with you to create a rock-solid financial plan. Part of what Facet Wealth does really well is match you with the CFP on their team who is the best fit for you. Your CFP will be assigned based on their expertise and the scope of services that you need, as well as any preferences you indicate.
All of your meetings will take place via video call.
Your first call with your dedicated CFP will consist of getting to know each other so that you can start to build a relationship with them. They'll want to make sure you have all of your questions answered and feel comfortable before the heavy lifting begins.
After this video call, your CFP will send you a list of questions and request a few docs that they'll need prior to your next meeting.
With regards to the onboarding process, one Facet Wealth user that I interviewed said:
"The onboarding process was very smooth. I liked that I didn't discuss pricing with my actual CFP and that their focus was simply on helping me. The process never felt rushed and the pacing felt just right. I think my relationship manager and CFP both did a really nice job of making sure my husband and I always felt comfortable and confident with the process. The cherry on top was the beautiful Facet Wealth dashboard I can use to check in on my finances."
You'll have more meetings initially then they'll taper off as you get settled.
From there on out, you'll meet on a regular cadence with your CFP to get your plan established and do the initial push to get you moving in the right direction before the meetings taper off as you settle into things. The best part is that you can schedule a meeting with your financial planner as often as you need to. That means that if you have a child and need to expand the scope of your services to include planning for future educational expenses for your little one, you can rest assured you can meet with your CFP to handle that.
If you travel a lot for work (or fun!), don't worry. One user said they had their introductory call with Facet Wealth while traveling in Africa! Just remember that you must be a resident of the U.S. in order to be a Facet Wealth Customer.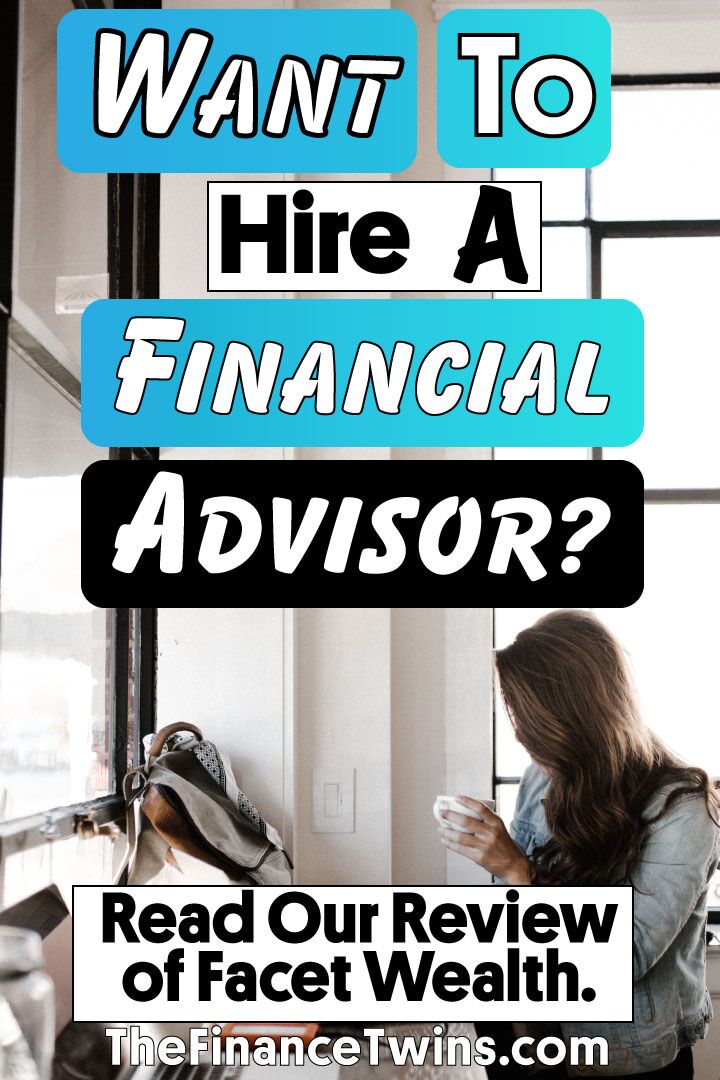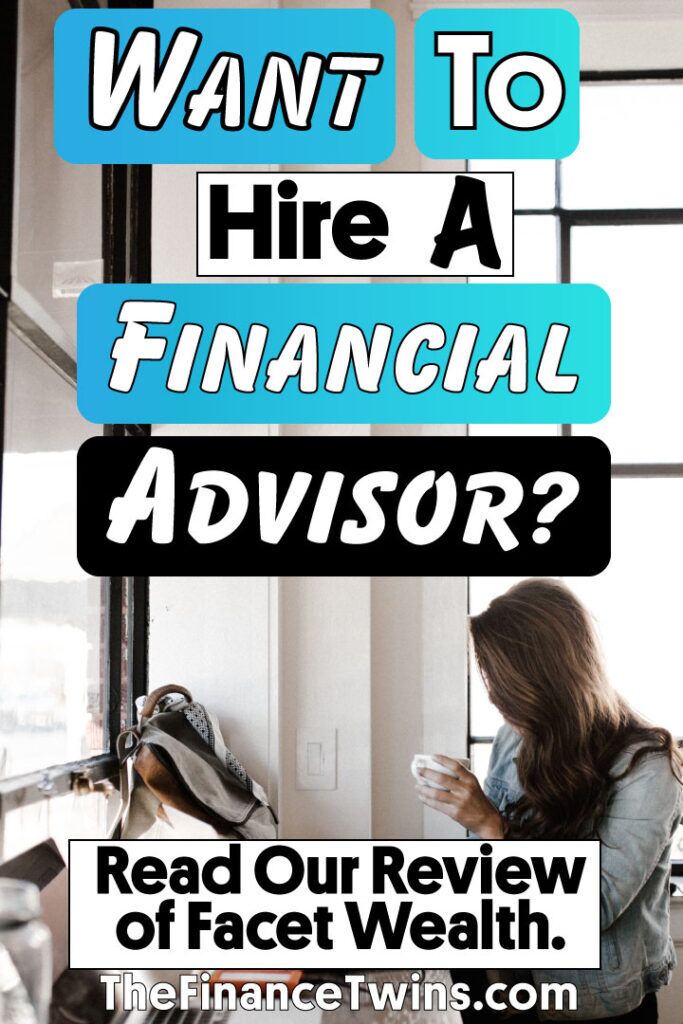 Facet Wealth Is Best For You If:
You have a household income of at least $70,000 or have $50,000 saved between savings, checking, 401(K), IRAs or other financial accounts
Have less than $1,000,000 to your name
Are unsure of how to best manage your money
Have a 401k and aren't sure if it's invested properly
Don't have the time, energy, or interest to DIY
Are going through a life transition and want help navigating the process from a financial standpoint
Are feeling anxious about money and would sleep better at night having a professional keeping an eye on your finances
You know what you need to do financially but have a hard time translating it to actionable steps
You have absolutely no clue about anything related to personal finance and just need help
Travel a lot for work and need to call your CFP from the road
Getting Started With Facet Wealth Is Easy
Getting started with Facet Wealth is easy. You simply schedule a complimentary introductory video call to introduce yourself, explain your goals and financial concerns, and learn about how Facet Wealth can help you.
You can schedule your preliminary call here: Schedule Free Call Now.
Ongoing Planning and Advisory
After your initial call with a Facet Wealth relationship manager, you'll be partnered with a certified financial planner who you will work with exclusively.
Your first call with your advisor will give your CFP the opportunity to introduce themselves and explain how their planning process will work. I love that they focus on making the process actionable so that you always feel like you are making progress. They'll also begin to collect any information they need to create a solid financial plan for you. Afterward, you'll check-in with your advisor as needed to answer questions, evaluate how you are doing, and provide any additional guidance needed.
You can expect to meet via video-call with your CFP regularly for the first several months until your plan is finalized and you feel comfortable with the planning decisions. Thereafter, you'll have meetings scheduled every 6 months to check-in, but they'll be available to you should you need anything in the interim.
How Much Does Facet Wealth Cost
Pricing
Facet's financial planning and consulting fees are negotiable, but generally range from $1,800 to $8,000 per year on a flat fee basis, depending upon the level and scope of the services required. If a client determines to engage Facet to provide discretionary investment management services, such services shall be considered in determining the client's final financial planning and consulting fee. Other factors considered include, but are not limited to the level and scope of the overall investment advisory services to be rendered and the complexity of the engagement.
A beautiful thing about Facet Wealth is that they've moved away from the legacy pricing model in the financial planning industry. However, we must note that they recently increased prices from starting at $40 per month to roughly $150 per month ($1,800 per year).
Historically, pricing in the financial planning space was based on the number of assets managed. This means that if you worked with a CFP who charged you a fee of 1.25% of AUM (assets under management) and you had a portfolio worth $175,000 you would pay $2,187.50 per year regardless of the number of services you needed.
In fact, if your portfolio grew to $225,000 you would end up paying an extra $625 even though you didn't use any additional services. Alternatively, some traditional advisors charge a flat fee to create a plan for you, but it usually wouldn't include ongoing support or guidance.
With Facet Wealth, you pay a flat monthly fee based on your services, regardless of how large or small your portfolio is. Though your level of usage probably does have a positive correlation with the level of service you'll need.
You'll have access to your advisor on-demand so that you will always have your financial questions answered as they arise.
Asset Management Is Optional And Included In The Price.
You also don't need to transfer any assets to Facet Wealth to work with them. They can still create a solid plan for you and give you ongoing support and guidance even if you don't want them to handle asset management for you. Asset Management doesn't come with an additional cost so you can always opt into it at any time.
Facet Wealth is able to offer comparatively lower prices than traditional advisors because their proprietary technology and process allow their advisors to more efficiently create thorough financial plans.
The best part is that your CFP is NOT involved in setting prices nor compensated based on the number of services you use. Their focus is always on helping you with your financial needs instead of focusing on up-selling you additional products you might not benefit from.
Is It Worth The Price?
Whether you need or want a CFP to help you navigate your finances is a personal decision, but many people believe the peace of mind alone is well worth it.
For some, the fees are well worth it if you feel completely lost, and having a CFP guide you would give you the confidence to start investing your money and making sure you have the appropriate life insurance policies in place for you and your loved ones.
Their starting price is likely less than you pay on a bunch of other things that are much less important.
How much will Facet Wealth Cost Me?
Historically, the average young professional on Facet Wealth's platform paid $2,400 per year. However, your plan will depend on the number of services you'll use. The fee is reviewed annually and adjusted up or down based on the services you'll need.
As a rough guideline, young professionals just beginning their careers will likely be well served with the services they'd receive at the lower end of the $1,800 to $8,000 per year range.F. This includes setting cash flow goals (determining which student loans to pay off first, setting up a budget, etc.) and making sure you have renters insurance and other basic things sorted out (like contributing to a Roth IRA). Your advisor will also guide you on how to start investing and which investments are appropriate for you.
If you'd like to have your advisor actually handle your investments for you (instead of simply guiding you), a higher tier of service that includes investment management will be ideal.
At the other end of the spectrum, Facet Wealth is equipped to handle small business retirement planning and charitable planning.
Facet Wealth works with clients of all sizes, but they founded the company to support American families that often fell through the cracks, accounts that are 'too small' for traditional investment advisors.
Facet Wealth's Technology Platform
As a customer, you'll have all of your financial information listed in your Facet Wealth dashboard. You can see an example of a dashboard below. Highlights include an overview of your financial accounts, family information, action items, and select financial metrics like your credit score.
Facet Wealth refers to your financial plan as your Blueprint. This is the document that your CFP will assemble to help guide you to your financial goals. You can see an example of a Facet Wealth Blueprint below.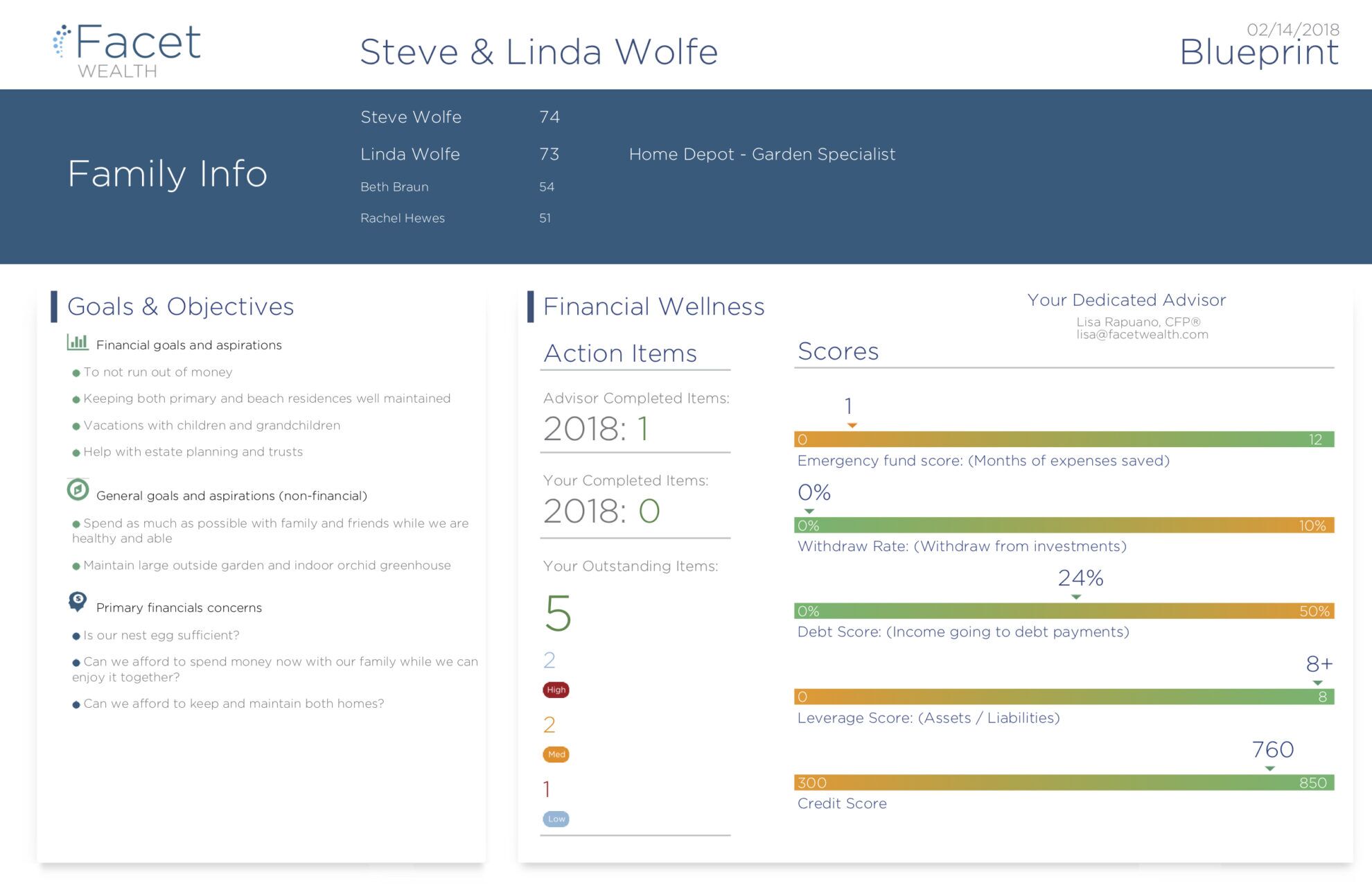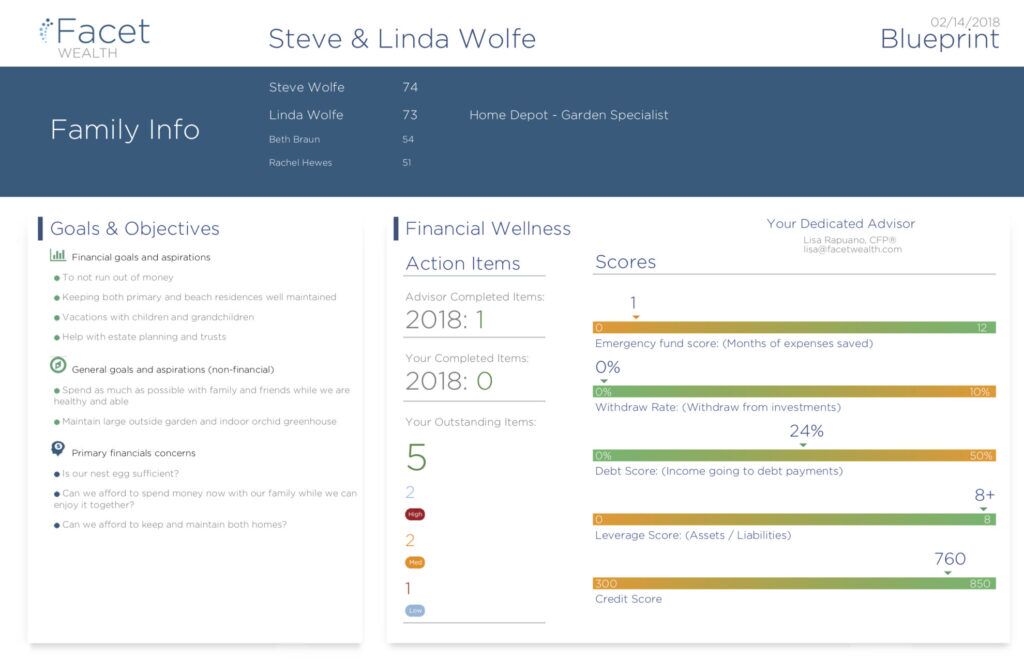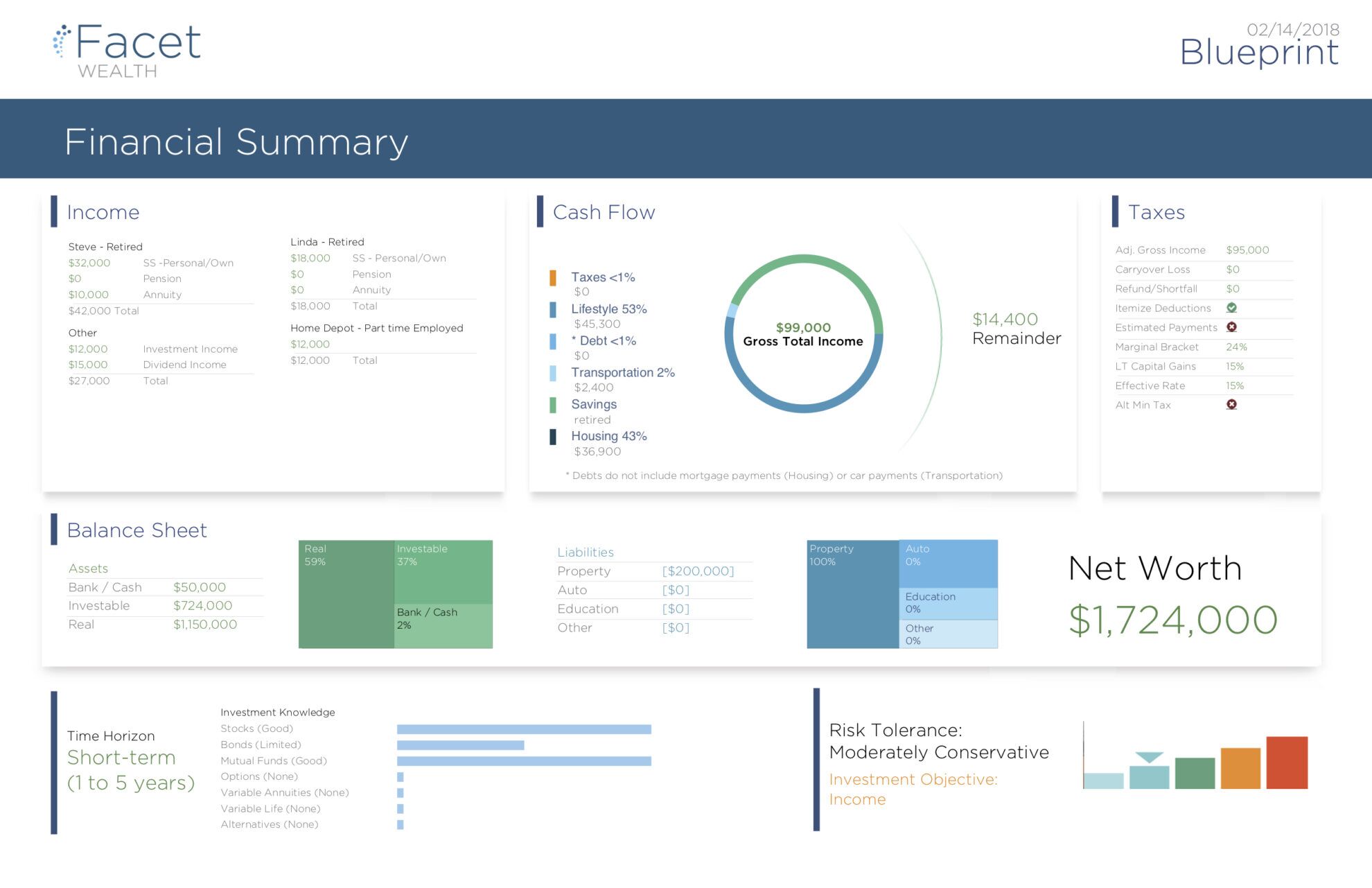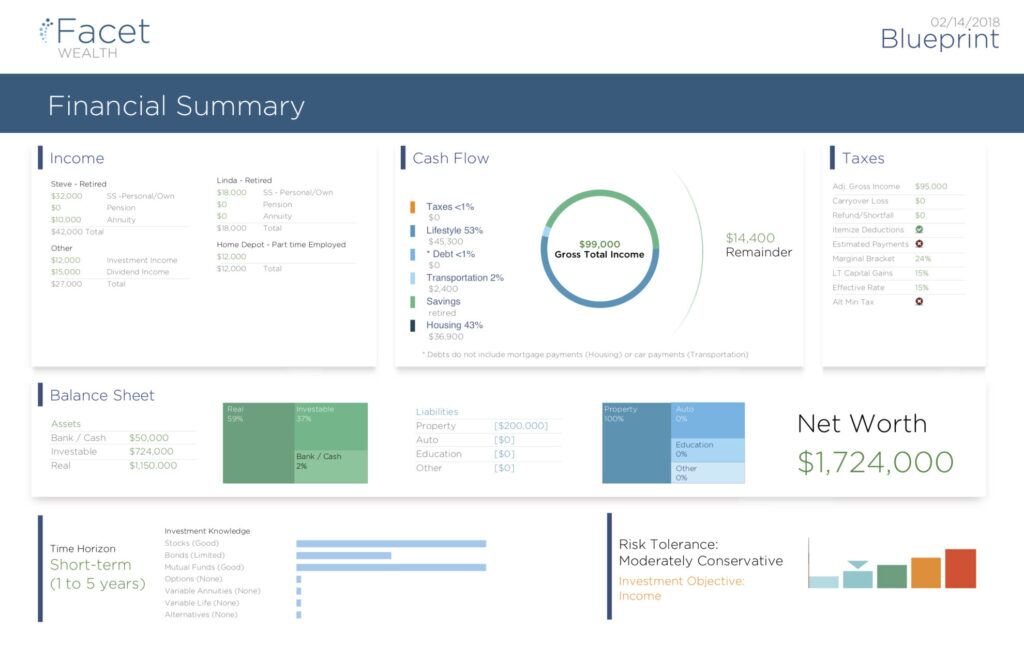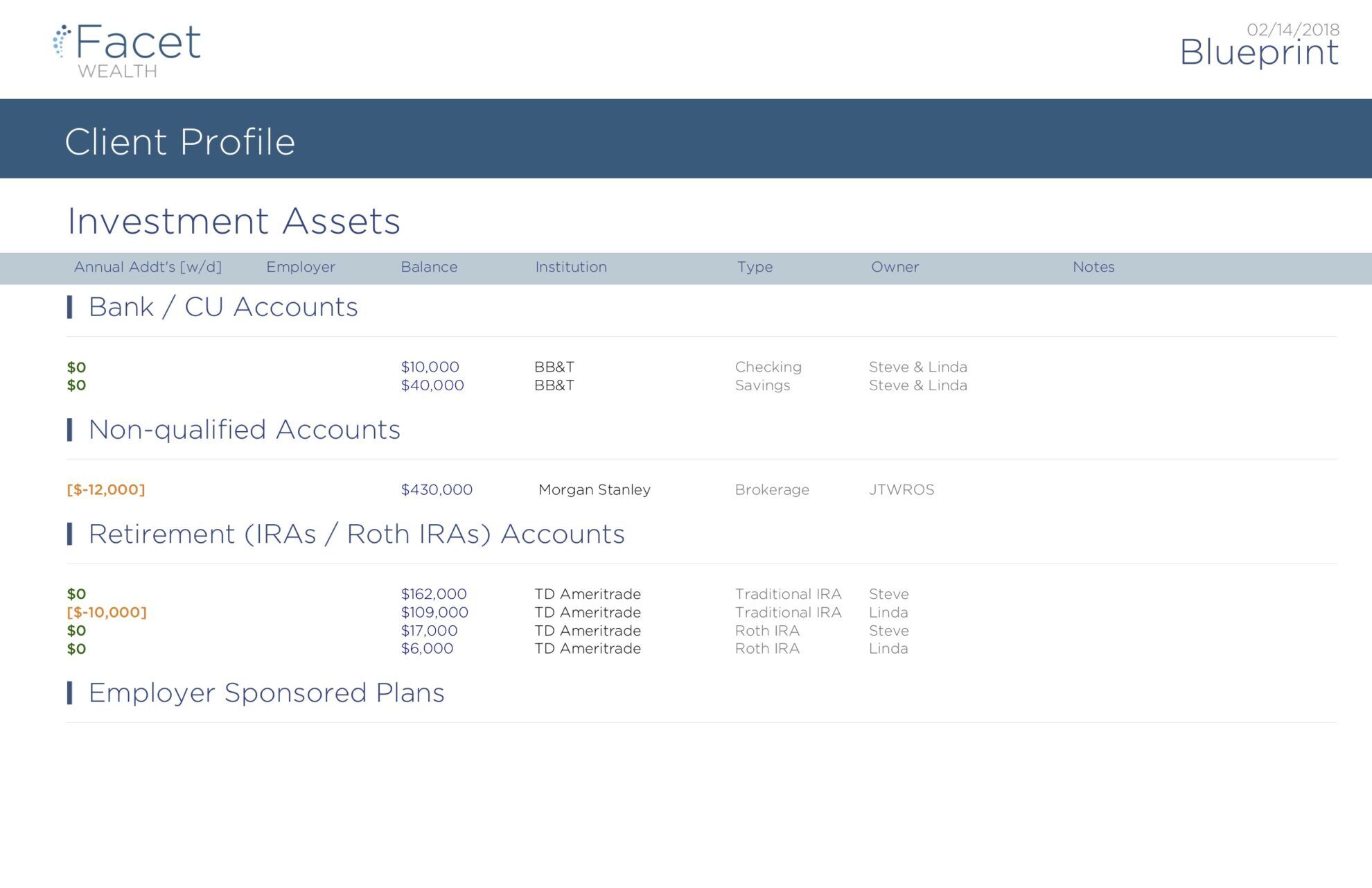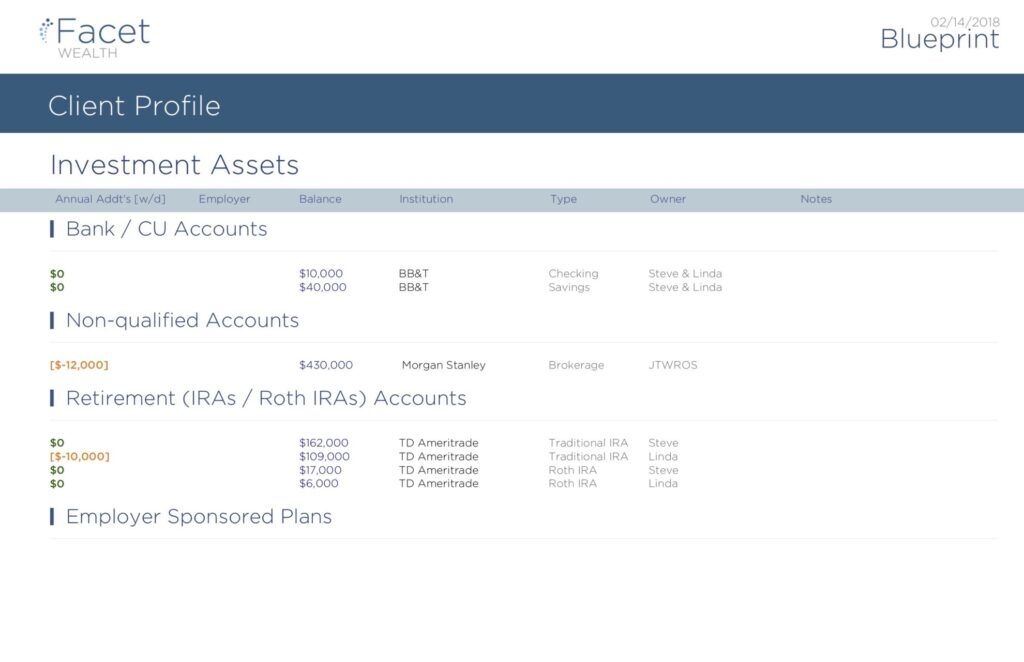 Facet Wealth Highlights
Facet Wealth's investment philosophy is centered around low-cost ETFs in order to minimize fees and maximize diversification. This is the same approach advocated by investing legends like the late John Bogle.
Financial planners at Facet Wealth must have the CFP designation, meaning their advisors have in-depth training and expertise to handle the financial complexities of your financial situation.
All Facet Wealth CFPs are fiduciaries, which means they are required to act in your best interest and place your needs before the company's.
You are charged a flat monthly fee regardless of the size of your portfolio, which means there are no surprises or unexpected fees. Your fee is reviewed annually and will be adjusted up or down based on the services you use or don't use.
Facet Wealth FAQ
Is there an account minimum?
No, there is no account minimum, but Facet Wealth recommends that new customers have a household income of at least $70,000.
Is there a service cancellation fee?
No, there is no cancellation fee if you decide you to cancel your subscription to Facet Wealth.
Is there an account maximum?
No, although households with assets exceeding $1,000,000 might be better served with CFPs who focus exclusively on higher net worth clients.
How do I contact my designated CFP if I have a question?
As a Facet Wealth customer, you'll have direct access to your CFP should you have a quick question or require a video meeting.
How can I be sure that my Facet Wealth CFP will have my best interests in mind?
Unlike other financial planning firms, Facet Wealth CFPs do not earn a commission based on the products they recommend or offer. Their CFPs earn a base salary and an annual bonus based on customer satisfaction. This helps eliminate conflicts of interest and means that your CFP is focused on doing right by you. Facet Wealth's Chief Investment Officer is committed to designing portfolios with the lowest fees in mind.
Since all of the meetings are virtual, can I sign up if I live outside of the U.S.?
No, at this time Facet Wealth is only accepting customers who reside in the U.S. Of course, you can still call your CFP while traveling abroad!
Does Facet Wealth actually cost less than other financial advisors?
Facet Wealth is able to offer lower prices than traditional investment advisors because they cater the pricing to the number of services that you need. This means you won't be paying for services you won't use. They are able to do this by leveraging their proprietary technology platform to allow their CFPs to create robust financial plans more efficiently.
What if my household doesn't earn over $70,000 or has $70,000 of investable assets?
That's okay. Facet Wealth doesn't have account minimums.
Facet Wealth was built on the premise that you shouldn't have to be rich in order to receive expert financial advice, so if you think you'd benefit greatly from working with them, I encourage you to set up a call with their team to learn more and explain your situation.
If my Facet Wealth CFP is located near me, is it possible to meet them in person?
No, all meetings with your CFP take place over a phone or video call. This allows your CFPs to focus on helping clients rather than driving to meet with clients or having to waste time filling up their gas tank.
What does investment management actually mean?
It refers to your CFP's ability to invest your money on your behalf. All of your investment accounts will be placed into a new brokerage where they'll manage your portfolio for you. If you don't want to have investment management or don't feel comfortable handing over the reigns, your CFP will give you investment recommendations and guide you on how to make the investments yourself.
Is it easy to cancel my Facet Wealth subscription?
Yes, their cancellation policy is no questions asked. If you aren't satisfied with their work you can cancel at any time. You just have to reach out to your Facet Wealth team and let them know.
Get Your Free Intro Call Now
Click here to schedule your introductory call with Facet Wealth.
As one customer told me, "I pay less for Facet Wealth than I do for my phone bill, and you have no idea how much less anxiety I have in my life now thanks to my CFP."

Camilo is a personal finance expert and the Co-Founder and CEO of The Finance Twins. I was raised in poverty by a single mother and had to learn everything about personal finance on my own. I have been featured on Forbes, Business Insider, CNBC, and US News. Earlier in my career, I worked as an investment banking analyst on Wall Street at JPMorgan Chase & Co., and I have an M.B.A. from Harvard University and a B.S.E. in finance from the Wharton School of the University of Pennsylvania.