Fundera simplifies the small business loan application process by creating one form to apply for hundreds of loans. They even make it so that you can find your perfect loan without leaving the site once.
They also make it possible to easily apply for a PPP loan as part of the coronavirus economic relief program. This Fundera review will explain the process and why we recommend the company if you need a business loan.
Fundera Review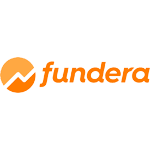 Name: Fundera
Description: simplifies the small business loan application process by creating one application to simultaneously apply for hundreds of loans. Fundera saves time and stress by consolidating hundreds of loan options in one place. They even provide additional personal advisory service to assist you through the process.
Fees

Customer Service

Ease-of-use
Fundera Review
Fundera simplifies the small business loan application process by creating one application to simultaneously apply for hundreds of loans. Fundera saves time and stress by consolidating hundreds of loan options in one place. They even provide additional personal advisory service to assist you through the process.
Pros
Makes finding loans easy

Specialized loan advisors

Free-to-use

User interface is straightforward
Cons
Acts as a middleman; can only provide estimates on your rates
Doesn't offer loans from every lender out there
What Is Fundera?
Fundera started as a one-stop-shop for you to apply for multiple loan products through a straightforward application. Since launching in February 2014, Fundera has helped over 35,000 small businesses secure a billion in loans.
The company not only makes the loan process simpler but also provides comparison tools to help you pick the right loan for your small business. They even assign lending specialists to make the journey as smooth as possible.
Fundera has since expanded outside of its founding business model to provide further consolidation tools on credit cards, banking products, and more. In comparison to some competitors, they also offer personal loans like Upstart. They are rated 4.8/5.0 stars on TrustPilot, solidifying their reputation.
How Does Fundera Work?
If you've ever applied for loans, you know how much of an annoying process it can be.
It's like applying for jobs. You look at a position, apply, and then move onto the next. Rinse and repeat, 10, 20, and 50 times. Whew.
Imagine if you had a tool where you could fill out one application for many jobs. Fundera does just that, except for loans.
Fundera makes finding loans easy and streamlined. Their process breaks down into a few, simple steps:
See what your options are (1-3 min)
Apply (10-30 min)
Talk to your lending specialist
Wait for your results
Compare offers
Pick the best product for you!
Stay up-to-date about
With just a few questions, Fundera helps find loans that you are likely to prequalify for. Once you've looked through your first options, then you can go through and submit the full prequalification form. Note that these two steps are entirely different and that the complete application takes between 10-30 minutes.
Afterward, they have technology that matches you with the best loan options available for you. Your full prequalification form is bounced through their system, submitting your application to multiple lenders.
Your specialist will work closely with you throughout the process to learn more about your business. By understanding your fundamental needs, they'll help optimize your loan options as well.
Fundera even goes as far as to claim that they make the process so simple that users don't need to exit out of the site once they start. The form takes about 10-30 minutes to complete, and the dashboard is clean and simple to follow.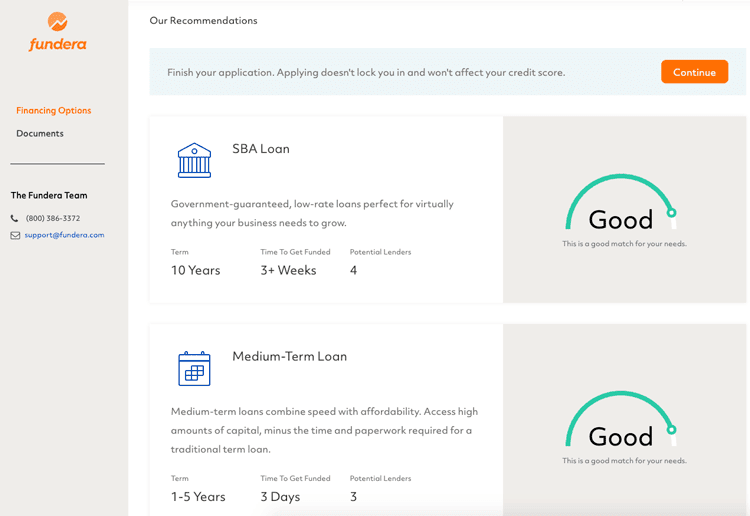 What Lenders Does Fundera Work With?
As a middleman, Fundera works with a variety of lenders such as:
Kabbage
Bluevine
Funding circle
Fundbox
Paypal
Five Star Bank
Celtic Bank
PNC Bank
What Type Of Loans Does Fundera Offer?
SBA Loans
The Small Business Administration (SBA) offers government-backed loans that are referred to as SBA Loans. Essentially, the SBA contributes to a part of a small business loan, reducing overall risk for a lender. Thus, the SBA helps incentivize lenders to create loans.
These loans can be used for almost anything, ranging from working capital to fixed assets.
Term Loans
Business term loans are the typical loan you think of when you think "loan."
You take the loan, borrow some amount of money, and pay it off as usual. Though, term loan approval is typically much faster than SBA loans.
Startup Loans
These types of loans are more geared towards startups or companies with little business history.
Startup loans, compared to SBA loans and term loans, are not as explicitly grounded in terms of rates. Your personal credit history and your startup's business potential play a considerable role in determining the loan term, APR, and amount. Consequently, the ranges for each are far too large to quantify in a singular table.
Each startup will have its own, unique terms.
Lines of Credit
Business lines of credit behave extremely similarly to a typical credit card.
You're essentially given a "credit limit" which acts as the maximum amount of money you can borrow. Interest only accrues on any money you use on your line of credit. Thus, lines of credit can give you more flexibility on your spending prowess and can allow you to cover unexpected costs.
Equipment Financing
Fundera provides access to loans that help cover all of your necessary equipment. These loans can easily and quickly finance computers, vehicles, and more.
Unfortunately, one of the major cons of equipment financing is depreciation. By the time the loan term ends, the equipment could have little to no value.
Invoice Financing
This type of loan helps provide immediate funds to cover your accounts receivable.
For example, say you have delivered a product, but the customer hasn't paid their invoice yet. You might need that money now, but the customer has 30 days to pay for their purchase. Invoice financing gives you the money you need within 24 hours.
The table below summarizes all the loans mentioned previously.
| | | | | |
| --- | --- | --- | --- | --- |
| | Loan Amounts | Loan Terms | Interest Rates | Approval Speed (Max) |
| SBA Loans | $5k – $5M | 5 – 25 years | Start at 6% | 2 weeks |
| Term Loans | $25k – $500k | 1 – 5 years | 7 – 30% | 2 days |
| Startup Loans | Varies | Differs | Ranges | Varies |
| Line of Credit | $10k – $1M | 3 mo – 2 years | 7 – 25% | 24 hours |
| Equipment Financing | Up to 100% of equipment costs | Expected equipment lifetime | 8 – 30% | 2 days |
| Invoice Financing | Up to 100% of invoice | Until customer pays | 3% + week outstanding | 24 hours |
What Makes Fundera Unique?
Fundera's secret sauce lies in making the application process as easy as they can.
The application consolidation tool simplifies the entire loan process to just a few simple steps. By emphasizing a streamlined flow, Fundera understands just how cumbersome these forms can be.
Moreover, Fundera is one of the only firms offering individual, personalized human support. These trusted advisors can help clear up any questions or concerns that arise. Since everyone's situation is different, these specialists ensure that the loans you pick are the best ones for you.
Pros & Cons Of Fundera
Generally speaking, Fundera is a free-to-use tool that can help speed up the loan hunting process. To be honest, Fundera doesn't have any significant cons that would truly deter you away from using.
The only issue is that Fundera can't give you precise interest rates, loan terms, or amounts. They can only provide estimates, and their estimates might differ significantly from what the lender actually provides.
Besides, if you don't like the loan options you see with Fundera, nothing is forcing you to take them. Remember: you can apply for free to see what loans work best for you, but you don't have to sign any dotted lines.
Pros:
Makes finding loans easy
Specialized loan advisors
Free
Excellent customer reviews
User interface is pretty and easy to use
Cons:
A middleman; only points you in the right direction
Only provides rough estimates until you get your actual offer
How Much Does Fundera Cost?
Fundera is entirely free to use. Like literally, you can go to their website right now, fill out their application, and find your loan options today.
How do they make money, you ask? Look below!
Is Fundera Safe?
Yep!
Fundera has a clean record. They have had no run-ins with the government since their inception.
Moreover, they have fantastic reviews from 790 satisfied consumers on TrustPilot (4.8/5.0). Clients cite that Fundera:
Helped them throughout the COVID-19 pandemic
Went above and beyond
Was simple to use
The Better Business Bureau even rates Fundera as an accredited "A+" company.
Although you will have to input some personal identifying information during the full prequalification application, including your social security, Fundera hasn't had any security breaches in the past.
Simply put, Fundera is a pretty safe and trustworthy company.
Will Fundera Hurt My Credit Score?
In the full prequalification app, Fundera needs your credit score to determine your creditworthiness for the loans you'll be applying. However, they only use a "soft pull" to find your credit history. "Soft pulls" do not affect your credit score.
However, remember that Fundera only serves as the middleman between you and the lender. If you decide to proceed with signing the dotted line for a loan, the lender will have to use a "hard pull" on your credit. "Hard pulls" look through your entire credit history to ensure that the prequalifying "soft pull" didn't miss anything.
Hard pulls do result in a temporary hit to your credit score. Thankfully, the effects are pretty small. Your credit score only factors new credit applications and inquiries for 10%. Moreover, these hard inquiries only stay on your credit report for a max of 24 months. Thus, your credit score will quickly return to normal.
In short, Fundera can't hurt your credit score, but the lender will temporarily damage it if you go through the formal application process for a loan.
How Does Fundera Make Money?
Seeing that they don't charge you a penny for their services, it's natural to question how Fundera makes their money. Shady practices? Selling your data?
Surprisingly, no!
Fundera makes money for every successful loan they process. Think of Fundera as a merchant selling an artist's product. If the merchant successfully sells the artwork, then the merchant can take a percent of the commission.
Lending middlemen like Fundera similarly make their money by selling loans. However, Fundera isn't going to just give you any random loan. If the loan didn't match your fit, then you wouldn't sign up for the loan, and Fundera doesn't make any money.
It's actually in Fundera's best interest to be as helpful as possible throughout the entire process. Remember: every successful loan offering makes them money, not just merely showcasing the loans.
Consequently, they reflect their keen interest in keeping the consumer first by offering a fantastic user experience. By providing free advisors and technology-based matching, Fundera really tries to make each loan as personalized to you as possible to generate sales.
How Is Fundera's Customer Service?
With such a focus on the client, Fundera's customer service is unsurprisingly spectacular.
Like we've mentioned beforehand, consumers have rated Fundera 4.8/5.0 on TrustPilot, and the Better Business Bureau gives the firm an "A+" rating. These stellar ratings have built an excellent reputation for Fundera.
Fundera offers a few ways to contact them for additional help:
You can email them at

[email protected]

Or you can give them a call at +1 (800) 386-3372
How Does Fundera Fare Against Competitors?
Generally speaking, Fundera is an excellent choice for loan consolidation and application tools. Their entire application process is free and easy to complete.
One of Fundera's main competitor is Lendio, and it's a similar business loan marketplace.
Our recommendation is to start with Fundera and see what you are offered. If you are unhappy you can try your luck with Lendio. Both applications are completely free, but Lendio does offer some loans from lenders that Fundera doesn't, and vice versa. Moreover, Fundera offers personal loans, whereas Lendio doesn't.
How To Get Started On Fundera
Fundera is easy to use.
Go to their application site and fill out the seven questions to get an initial overview of your broad options. Then, fill out the full prequalification form to see what exact loans you could get. Finally, you can explore your personally matched options to determine the best loans for you.
The whole process shouldn't take you any longer than 30 minutes.
Should You Use Fundera?
If you are looking for small business loans, then we would recommend using Fundera. From what we've seen, the company makes the user experience as sleek as possible.
Though, you should also combine your efforts alongside Lendio to sort through all possible options since Fundera has lenders that Lendio doesn't.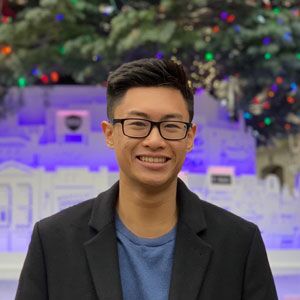 John Ta is an undergrad at the University of Pennsylvania and the founder of Penn's first undergrad personal finance club, Penn Common Cents. As a first-generation college student, he had to learn everything about personal finance on his own and seeks to mend the financial literacy knowledge gap seen almost everywhere. John is currently studying for an MS in Chemistry and a BA in Physics (business & tech concentration), Biochemistry, and Biophysics and is interested in the intersections of finance and healthcare.