Experian Boost is a free tool that can immediately boost your credit score by factoring in other timely payments such as your internet and cable bills that aren't typically used in credit score calculations.
Experian Boost Review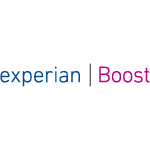 Name: Experian Boost
Description: is a useful, free tool that can help boost your FICO Credit Score 8. Credit score updates appear real-time and can be immediately reversed with no repercussions. However, some lenders don't know what it is and can misinterpret your Experian Boosted score.
Pricing

Credit Help

Credit Monitoring

Ease of Use/Setup
Summary
Experian Boost is a useful, free tool that can help boost your FICO Credit Score 8. Credit score updates appear real-time and can be immediately reversed with no repercussions. However, some lenders don't know what it is and can misinterpret your Experian Boosted score.
Pros
Free to use
Real-time credit score updates
Boosts credit scores by average 14 pts.
Non-permanent changes
Cons
Might not be pertinent to lenders
Enter bank account info online
Can only use bank account-based bill payments for boost
What is Experian Boost
Have you ever realized just how many payments you make for your water, electricity, phone, internet, and television bills? Typically, your FICO credit score doesn't take these everyday life expenses into account, although they may reflect your ability to pay your bills on time.
Remember that your payment history represents 35% of your credit score calculations. Experian Boost takes advantage of this credit score (FICO Score 8) section by taking your everyday utility and telecom payments into account—after all, they do represent timely payments, which is what this portion of your credit score reflects.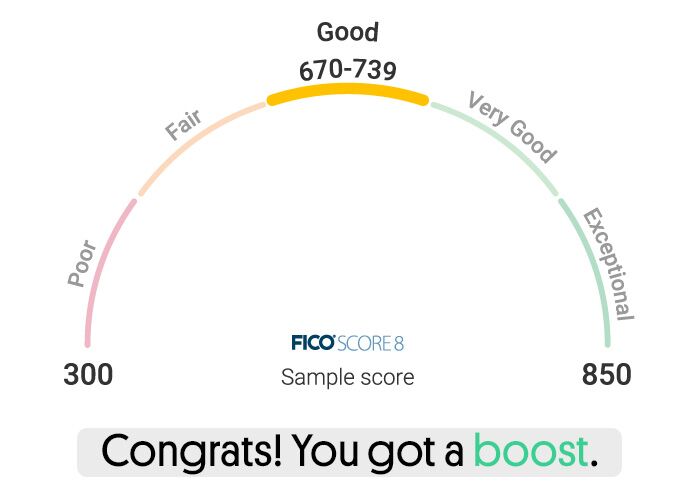 Features
Boost your credit score using your on-time payment history via your water, electricity, phone, internet, and television; bills that aren't generally factored into your FICO 8 credit score
Free to use tool that has an immediate effect on your credit score
Score outcomes can be reversed; Experian Boost doesn't affect your credit score permanently
How Experian Boost Works
Experian Boost takes your paid-on-time water, electricity, heat, phone, and cable bills and adds them to the "payment history" portion of your credit score. This addition can help solidify your credit score, especially if you've had poor repayment history.
However, Experian Boost will only factor in payments made from your bank account. If you're like me and use a credit card for all utility payments to get the 2% flat-rate cash back perks, then we are unfortunately unable to receive any significant boost benefits from this tool. Comparably, if you use your checking account to pay off bills, then Experian Boost might be able to help increase your credit score.
Who Can Use Experian Boost
Anybody! Really.
However, Experian Boost is more useful more to some people than other people. We'll delve into the differences below.
| | |
| --- | --- |
| Who's It Good For | Who's It Bad For |
| People with poor credit scores that have a long history of utility and telecom bill payments using their bank account. | Those with strong credit scores already; if your payment history is excellent, then adding more successful payments will have a marginal impact on your score. |
| Individuals who need a quick boost to their credit score for an upcoming home or auto loan, or if they are preparing to apply for a new credit card, as long as the lender understands what Experian Boost does (see "Fine Print" section below). | Individuals that pay their utility and telecom bills with their credit cards; only bills paid using your checkings/savings account will count towards your Experian Boost calculations. |
What Does Experian Boost Cost?
Experian Boost is completely free! The standard service offers credit score monitoring alongside monthly credit score updates.
A natural question that arises is how Experian profits off of this free-to-use tool. While Experian doesn't say precisely how they monetize the service, it's safe to assume that they will try to upsell you on some of their other paid products and services.
Furthermore, by linking your bank account to their service, you are also providing them with a lot of valuable information that they can use to target you for other products. For a lot of people with poor credit or a low credit score, that's a small price to pay for a boost to their credit score.
In-app Purchases Can Give More Features
As an Experian user, you can also purchase CreditWorks Premium for $24.99 per month or $249.99 per year. If you simply want to try out this advanced feature, you can get a 7-day trial membership for only $1.
This subscription-based service will not only monitor your Experian credit score but also track across the other two major credit bureaus, Equifax and Transunion. In addition, this premium version will allow you to receive daily Experian and FICO score updates instead of the free monthly updates. CreditWorks Premium provides a plethora of other features as well.
Is this worth the cost? Generally speaking, I don't think so—monthly credit report updates are usually more than enough. Other tools, such as CreditKarma, will give you frequent credit score updates to ensure that you're aware of someone stealing your identity.
However, if you're about to get a new house or auto loan, it might be useful to see your FICO Home or Auto scores; only CreditWorks Premium allows you to see these numbers.
Experian Boost Pros & Cons
| | |
| --- | --- |
| Pros | Cons |
| Your FICO credit score updates in real-time; the changes take place almost immediately. | Experian Boost cannot guarantee that your credit score will always increase. In fact, some people found that their scores decreased due to the complex algorithms involved in calculating credit scores. |
| If you aren't happy with your new credit score, you can remove any Experian Boost related effects at any time. | This tool will only modify your Experian FICO Score 8, which differs from FICO Auto, FICO Home, or previous FICO Score models. Furthermore, it will not affect your Transunion and Equifax scores. |
| You have a lot of control over the accounts you choose to add; any negatives, such as missing a utility payment, will not even be factored into your new score—only "positive," on-time payments will. | Inputting your social security and bank account information online could cause security issues down the road if Experian ever succumbs to a major breach like the 2017 Equifax breach. |
| It's easy to sign-up and complete your Experian Boost application; users have mentioned that they can do the entire process on their phones in one sitting. | Experian Boost will only factor in utility and telecom payments from your bank account; payments made from your credit card do not count towards your new score. |
Can Experian Boost Hurt My Credit Score?
Experian says that "only Experian can raise your FICO Score instantly." Notice that they don't say that Experian Boost will raise your credit score.
While Experian Boost will only pull your positive payment history, due to the FICO Score 8 algorithm's complexity, there is an off chance that Experian Boost could hurt your score.
However, according to Experian's website, the average user received a 13 point boost to their FICO Score 8. Furthermore, if you were one of the few users who took a hit to their score, one of the pros about Experian Boost is that you can more than easily remove any effects from your account instantly without any fees or problems.
So, in summary, Experian Boost is most likely going to help your credit score, and if it doesn't, you can easily remove its effects at any time without repercussions.
What are other ways to build my credit score?
Let's be realistic—Experian Boost's average increase of 13 points isn't much if your score is low. This tool is probably best used alongside some other credit score building instruments to maximize your credit score before you go in for your home or auto loan application.
If you're looking to build your score, it's probably a good idea to look into credit score tracking products such as Credit Sesame. Dual-purpose products like LifeLock also offer identity theft protection and insurance!
Secured Credit Cards
Generally speaking, credit cards are one of the primary factors in determining your credit score, because they affect your credit utilization and all of the other credit score factors.
As long as you pay all your bills on time, keep your credit utilization ratio low, and have a decent credit history, your credit score will be pretty solid in the first place.
However, if you have poor or no credit history, secured credit cards will probably be your best bet to help give your credit score a substantial boost.
These cards work by having you provide collateral that serves as your credit limit. For example, you give the bank $500, and the bank grants you a $500 credit limit—the bank takes a lot less risk in opening the credit card for you since if you don't pay off your bill, your initial $500 deposit insures the bank safely.
Consequently, it's pretty easy to open a secured card, and your maintenance of this card will help fix or start your credit history. However, keep in mind some of the golden rules of credit cards: treat your credit card like a debit card and pay your credit card bill weekly.
This strategy will allow you to use your credit card responsibly and help you get an excellent credit score. Having great credit can save you thousands when you buy a home.
Credit-builder Loans
In brief, credit-builder loans are loans offered by banks and other institutions specifically designed to help build your credit score.
The basic idea behind this product is that your credit score breaks down by 35% on-time payments and 10% credit mix.
To start, you'll open a savings account (check out CIT Bank Savings Builder) in which your loan payments will go to. Then, you pay a portion of your loan over a 12 to 24 month period, and once you pay off that loan, you'll get all of your money back. Usually, the bank will keep some portion of the interest charged on that loan or charge a one time fee.
Credit-builder loans can be used by individuals with poor or no credit as well since the lender takes little risk during the entire process of things as well.
Increase Your Credit Limit
Your credit utilization comprises 30% of your total credit score. Thus, it's incredibly important to keep your credit card use at a minimum during the billing cycles to keep your score at a maximum.
If you're in good standing with your credit card issuers, you can request a credit limit increase, which can effectively decrease your total utilization. Since credit utilization is calculated as the ratio of credit used to your total credit available, the bigger the denominator, the lower the fraction is as a whole.
Said differently, increasing your credit limit on existing credit cards will improve your credit score if everything else stays the same.
Is there any fine print?
Interestingly, although your credit score could increase a few points using Experian Boost, this boost may have minimal effect on lenders' willingness to issue you a new credit line or lower your interest rate.
Why?
When you are shopping for a home and deciding on your loan, lenders may not even consider your FICO Score 8. Instead, they might use their own algorithms to calculate your home-loan based credit score, excluding any of the utilities and telecom payments Experian Boost uses to boost your score.
They could also use your Transunion or Equifax scores to determine your creditworthiness, both of which aren't affected by Experian Boost. Consequently, your new and shiny score might not affect the interest rates of your loans.
These additional utility payments recorded by Experian Boost can also make lenders question your credit history. Debt-to-income (DIT) ratio is used by lending institutions to also determine your creditworthiness, and logging routine utility and telecom payments can increase the "debt" you owe, since the archaic credit reporting systems aren't accustomed to this.
This additional "debt" could increase your DIT ratio, which could lower the amount of money you could have actually qualified for in your loan.
Experian Boost has a wide variety of outcomes, and your experiences with it will vastly differ from others. However, remember that Experian Boost's effects can easily be removed, so it's definitely worth trying it out to see what happens!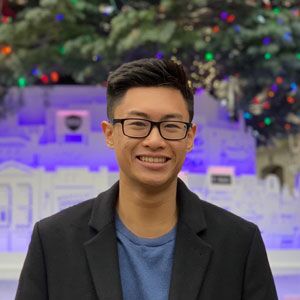 John Ta is an undergrad at the University of Pennsylvania and the founder of Penn's first undergrad personal finance club, Penn Common Cents. As a first-generation college student, he had to learn everything about personal finance on his own and seeks to mend the financial literacy knowledge gap seen almost everywhere. John is currently studying for an MS in Chemistry and a BA in Physics (business & tech concentration), Biochemistry, and Biophysics and is interested in the intersections of finance and healthcare.