We all think about achieving financial independence someday in the not-so-distant future. But dreaming of it and actually achieving it are two totally different things. It takes a lot of hard work, sacrifice, and planning. But there's no better feeling than actually achieving financial freedom, and, of course, then being able to share it with those you love.
An often overlooked component of financial security is term life insurance. Term life insurance protects your loved ones during the years they would need it most — while you're building your career, with kids living in the home and up until the mortgage is paid off.
It's really a no brainer: if you have financial dependents, then life insurance should be part of your financial toolkit. If you have kids or other financial dependents you should think of term life insurance as a necessity.
The good news is that it's easier than ever to buy dependable and affordable term life insurance directly online. On top of that, younger, healthier consumers (think: Millennials) generally get the best rates.
Today, I'm going to review a leading startup called Haven Life that offers a simple way to purchase term life insurance online.
Haven Life Insurance Review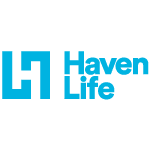 Name: Haven Life Insurance
Description: is an online agency that is backed and wholly owned by MassMutual, one of the largest life insurance companies in the country. This means you get the innovative user experience of a startup with the dependability of a leading insurer. Furthermore, MassMutual has an A++ rating from A.M. Best – the highest possible rating – for their financial strength and claims-paying ability.
Pricing

Convenience

Customer Service
Summary
Overall, Haven Life needs to be included in any discussion regarding Term Life Insurance. They offer free quotes in minutes and may not require a medical exam, which makes the process fast and convenient. Their pricing is very competitive and is often quoted as a reason for customer satisfaction.
Pros
Policies Underwritten by MassMutual
Easy To Navigate Application Process
Only Offer Term Life Insurance
Cons
Medical Exam Necessary For Some Applicants
Haven Life has a strong reputation
As recently as a few years ago, if you wanted to buy life insurance, you would have had to go through a financial advisor or an insurance salesperson. There were very few direct-to-consumer life insurance options, but today with an influx of innovation and technology, the industry is booming with upstarts
This is great news for consumers because the competition has fueled innovative products and purchase experiences, while keeping prices competitive.
One of these upstarts is Haven Life Insurance Agency. What I really like about Haven Life is that they only sell term life insurance, which I think is the best financial choice for the vast majority of people.
Haven Life is also backed and wholly owned by MassMutual, one of the largest life insurance companies in the country. This means you get the innovative user experience of a startup with the dependability of a leading insurer. Furthermore, MassMutual has an A++ rating from A.M. Best – the highest possible rating – for their financial strength and claims-paying ability.
Haven Life also gets strong customer reviews. Their TrustPilot rating is 4.8 out of 5.0 with more than 900 reviews.
MassMutual and its subsidiaries C.M. Life Insurance Company and MML Bay State Life Insurance Company are rated by A.M. Best Company as A++ (Superior; Top category of 15). MassMutual has received other ratings from different rating agencies.
What types of life insurance does Haven Life provide?
Haven Life currently offers only term life insurance. Term life insurance provides a simple and affordable way to provide for your loved ones in the event of your death. This type of life insurance coverage lasts for a fixed period of time – 10, 15, 20 or 30 years.
Like other kinds of life insurance coverage, term life provides a financial payout to your beneficiaries if you die within the coverage term of your policy – a "death benefit" – in exchange for regular monthly payments. That payout is often tax-free and paid in a lump sum.
How do I purchase life insurance from Haven Life?
Buying term life insurance through Haven Life is pretty simple, which is often highlighted in its customer reviews. You simply enter information about your income, lifestyle, and personal and family health history. Haven Life reviews those details in real-time using AI and advanced algorithms to determine if you're approved for coverage.
More about the Haven Term policy:
Age eligibility is 18-64
Available in 10, 15, 20 and 30-year terms
Up to $3 million in coverage, subject to select limitations like age, income and citizenship
Comes with cool benefits beyond life insurance through Haven Life Plus, a rider included in the Haven Term policy that gives customers access to services like an award-winning fitness app and digital will for no cost.
Use the estimator below to get a sense for what a policy may cost:
If you simply want to get an estimate before going through the application, they also have a life insurance estimation tool to help you get an idea of how much a policy would typically cost.
Many applicants (but not everyone!) will need to take a medical exam to finalize their coverage and rate. However, having to take a medical exam is not necessarily an indication of your health.
In fact, many Haven Term applicants who take a medical exam still end up getting the best rate class.
If a medical exam is needed, Haven Life makes the process pretty seamless, at a time and place of your convenience, and even often having someone come to your home.
Remember: it's very important to be honest when completing the application. The issuance of the policy or payment of benefits depends on the truthfulness of answers in the application.
What are my estimated costs?
The cost of life insurance varies based on an individual's age, gender, health and how much coverage one is purchasing. For a 35-year-old man in excellent health, a Haven Term policy issued by MassMutual would cost:
| | | |
| --- | --- | --- |
| Face amount | Term length | Monthly premium |
| $250,000 | 20 years | $18.06 |
| $250,000 | 30 years | $30.32 |
| $500,000 | 20 years | $23.34 |
| $500,000 | 30 years | $41.42 |
| $1,000,000 | 20 years | $40.67 |
| $1,000,000 | 30 years | $76.85 |
| (Quotes from Haven Life) | | |
Why should I consider Haven Life?
In addition to an easy purchasing experience, Haven Life separates itself from traditional insurance options by offering additional benefits for customers to make their lives easier while they're actually living, with a rider called Haven Life Plus.
A rider is like a bonus feature, and in this particular case, it comes at no additional charge to the policyholder.
Some of the services included in Plus are items that customers can really use, such as:
Aaptiv – a leading in-home fitness app; policyholders have access to a yearly subscription at no cost ($99 value)
Trust & Will – an online solution for creating a legal will at no cost (a $129 value)
LifeSite – a secure, digital safe deposit box for organizing and sharing your family's vital documents; policyholders receive a subscription for themselves and up to five family members ($80/year).
Timeshifter – a travel app that helps to eliminate the symptoms associated with jet lag; policyholders have access to a year of unlimited Timeshifter jet lag plans ($24.99/year)
MinuteClinic® – routine health services offered inside CVS Pharmacy and Target stores; policyholders receive a 15 percent discount on any single service
Note: Haven Life Plus is not available to residents of Florida, New York, North Dakota, South Dakota and Washington.
So, to recap, if you're looking for a highly regarded option for term life insurance that's easy to purchase online, Haven Life is a great choice.
Haven Life Plus (Plus) is the marketing name for the Plus Rider which is included as part of the Haven Term policy. The rider is not available in every state and is subject to change at any time. Neither Haven Life nor MassMutual are responsible for the provision of the benefits and services made accessible under the Plus Rider, which are provided by third party vendors (partners).
Haven Term is a Term Life Insurance Policy (DTC 042017 [OK1] and ICC17DTC in certain states, including NC) issued by Massachusetts Mutual Life Insurance Company (MassMutual), Springfield, MA 01111-0001 and offered exclusively through Haven Life Insurance Agency, LLC. Policy and rider form numbers and features may vary by state and may not be available in all states. In NY, Haven Term is DTC-NY 1017. In CA, Haven Term is DTC-CA 042017. The Agency license number in California is OK71922 and in Arkansas, 100139527.

Camilo is a personal finance expert and the Co-Founder and CEO of The Finance Twins. I was raised in poverty by a single mother and had to learn everything about personal finance on my own. I have been featured on Forbes, Business Insider, CNBC, and US News. Earlier in my career, I worked as an investment banking analyst on Wall Street at JPMorgan Chase & Co., and I have an M.B.A. from Harvard University and a B.S.E. in finance from the Wharton School of the University of Pennsylvania.