In the modern era, technology helps solve many of our problems and provide alternative solutions that are faster, easier, and cheaper. This has already expanded to the realm of investing through robo-advisors. Now, Ladder is doing the same with getting life insurance.
But how does Ladder work? Is it safe? And most importantly, should you use it? Our Ladder life insurance review will answer all of these questions and more.
Ladder Review Score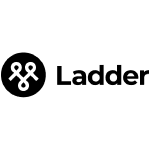 Name: Ladder
Description: is a term life insurance platform focused on providing you low-cost, flexible life insurance.
Pricing

User Experience

Ease Of Use

Customer Service
Summary
Ladder is a term life insurance platform focused on providing you low-cost, flexible life insurance.
Pros
Quick and easy to apply for coverage
Low-cost coverage
Lots of flexibility in coverage amount

No medical exams for up to $3M in coverage, just a few health questions

Useful educational resources
Cons
Can't add policy riders
Not everyone can get insurance via Ladder
Inability to bundle life insurance with home or auto
What Is Ladder?
Ladder is a life insurance platform that focuses on term life insurance. The company is relatively new, launching their product in 2017, but it's already available in all 50 US states. This means that wherever you are geographically, you should be able to apply to get coverage through Ladder.
Ladder does have a few restrictions on who can get coverage, such as limiting possible clients to those between the ages of 20 and 60. With these restrictions in place, it's important to understand that Ladder may not be a possibility for you, depending on your age.
The main idea of Ladder, however, comes from their flexibility. As your needs change over time, you can adjust your coverage accordingly by "laddering" up and down, hence the name "Ladder."
How Does Ladder Work?
Based on basic information about your habits, history of illness, and current financial situation, Ladder uses their online application to determine your life insurance eligibility and costs. This all takes place entirely through their website, which also means you can avoid a possible trip to the doctor's office.
With this data, Ladder can give you a life insurance quote in just a few minutes! But, that's not even the full extent of what makes Ladder unique.
What Makes Ladder Unique?
Ladder is unique in two main ways: first, they operate completely online. This means you don't have to interact with human insurance agents to purchase coverage and instead they rely on answers to application questions and algorithms to determine your life insurance options.
Second, Ladder lets you easily decrease or apply to increase your coverage as your needs change. Say you have a second or third child. Suddenly, your life insurance policy needs a greater death benefit (the amount paid out if you die during the term) to account for the additional person your income would have to support. If that happens, you can simply apply to increase your coverage and pay a slightly higher monthly premium ("laddering up").
Let's instead now say you bought your original life insurance policy ten years ago when your kids were pre-teens. Now, they've grown up and are off to college, the workforce, etc. and are financially independent. You probably don't need as much coverage as you did when you were supporting them, and Ladder makes it easy to decrease ("ladder down") your coverage.
If this feature doesn't seem like that big a deal, understand that you would typically have to get an entirely separate life insurance policy to change your coverage amount. This not only takes a lot of time and effort on your part, but it also can cost a lot of money in fees.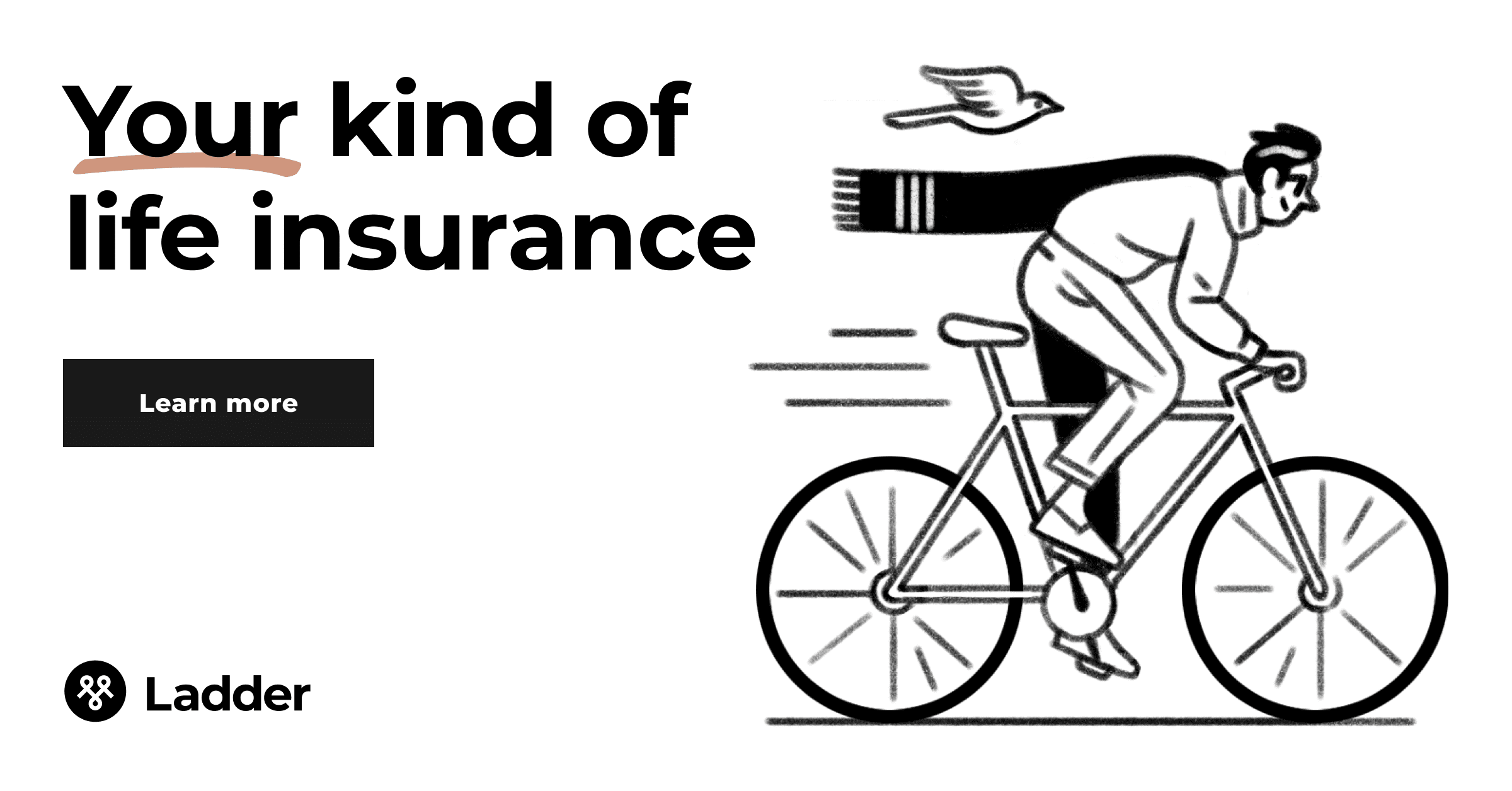 Pros & Cons Of Ladder
Ladder Life Insurance Pros
Quick and easy to apply for coverage
Low-cost coverage
Lots of flexibility in coverage amount

No medical exams for up to $3M in coverage, just a few health questions

Useful educational resources
Ladder Life Insurance Cons
Can't add policy riders
Not everyone can get insurance via Ladder
Inability to bundle life insurance with home or auto
How Much Does Ladder Cost?
Your specific life insurance quote will vary a lot, depending on your situation. However, if you compare Ladder to other term life insurance companies, Ladder has some of the lowest premiums available.
As we've discussed already, part of this is because they primarily operate as an online company. This lets Ladder save money on overhead costs like physical locations, which in turn passes on lower prices to you as a consumer. The other reason Ladder can offer lower premiums than other companies is because of their selectivity, but more on that later.
Is Ladder Safe?
The short answer to this is yes, Ladder is safe. They encrypt all of your information from the application, and important details like your SSN are kept entirely confidential. Any shared medical information is done so only for verification or auditing purposes. It is never sold to a third party.
How Does Ladder Make Money?
Ladder makes its money the way most insurance companies do: selling you insurance. They don't charge hidden fees, and their employees are salary-based rather than commission-based. This means Ladder's staff aren't given a financial reason to sell you a specific product or service, so you can rest assured that their goal is to help you get a good deal.
How Is Ladder Customer Service?
Ladder has incredibly useful customer service. You can call between 8 am and 5 pm PST Monday through Friday, use their live chat feature, or submit a help ticket via a brief form.
The ability to call their customer service team makes it much easier to resolve any issues that may arise, and all in all, it's a useful resource.
What I Wish Was Different About Ladder
I have very few criticisms of Ladder. But, the ones I do have are both related to the same issue: lack of accessibility.
If you are over the age of 60 or need to add insurance riders, Ladder won't be able to meet these needs. While there is a benefit to the overall cost, since this selectivity is a big part of how Ladder can offer those it does cover such low prices, it's still a shame more people can't use it.
How Does Ladder Fare Against Competitors?
Ladder really doesn't have any competition when it comes to providing adjustable term life insurance. As for insurance more broadly, Ladder does lack the ability to bundle life insurance with home or auto. However, this is made up for in the lower premiums Ladder offers for life insurance.
If you want to shop around for different types of insurance on your own, check out the comparison tool Policygenius.
How To Get Started On Ladder
When you first go to Ladder's homepage, you're greeted with a helpful "Get Started" button. This takes you to the start of their application, which lets you describe yourself in greater detail and gives you a relevant life insurance quote.
You then have to fill out relevant biographical information like age, sex, height, weight, tobacco usage, and history of family illness. This is all standard industry information and helps determine how much risk you might have.
Next, you start giving information about your financial situation. Questions like "what is your annual household income?" and "How many children do you have?" are important because they can determine how much coverage you should purchase.
After this point, you can choose the amount and duration of your coverage. The amounts range from $100,000 to $8 million. The durations range from 10 to 30 years, increasing in 5-year increments.
One nice thing Ladder does is provide an average coverage amount and length for people in similar financial situations. This is an incredibly useful baseline to use if you have no idea what to select in terms of coverage.
Now, you get an estimated price per month. For this Ladder life insurance review, I used similar information to the average American. With a household income of $52,000, and a $200,000 mortgage, 20 years of coverage for $500,000 cost around $28/month for a 30 year old male in good health.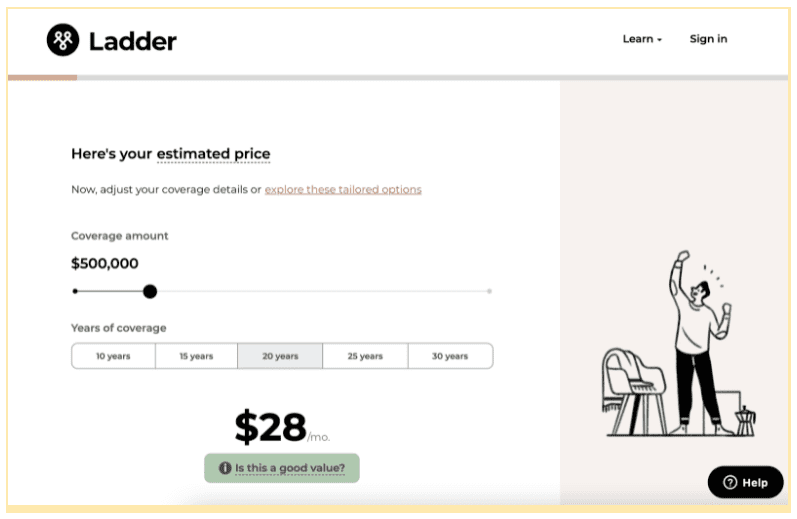 Getting A Quote
After receiving a rough estimate, you must answer a few more questions to determine whether you can apply immediately.
First, Ladder asks if you plan to do any of the following in the near future:
Skydiving
Scuba diving
Racing
Mountain climbing
Hang gliding
Ultralight flying
Other "Extreme Activities" (bungee jumping, rodeoing, etc.)
These are all high-risk activities that can impact your likelihood of death, and therefore your coverage.
Then, Ladder asks for information about any international or flying plans you may have in the next two years.
Finally, you have to answer a few more questions about drug use, criminal activity, rapid change of weight, medical history, and any prescription medication recently used. After that, you finished. Congratulations!
It's worth noting that this whole process took me around 5 minutes to complete. There are no medical exams for up to $3M in coverage. If you're applying for more than $3M, you may need to use a free saliva kit sent by Ladder to verify certain medical information.
Should You Use Ladder?
Although Ladder has some limitations in not allowing riders or people of certain ages, for most people, Ladder is a fantastic choice!
Ladder offers low prices, a fast and easy to use online application, and a helpful customer service team to deal with any issues along the way. Combine this with the flexible laddering system and useful educational resources to learn more about life insurance, and you've got a phenomenal product.
That said, not everyone needs life insurance, but if you're looking to get term life insurance, you should absolutely check out Ladder.
You might also be interested in reading our full reviews of a few of Ladder's competitors, including Bestow and Haven Life.
FAQs
How often should life insurance be reviewed?
Life insurance should be reviewed once a year. The most common exception to this rule of thumb is if your life circumstances undergo a serious change.

This refers to negatives like being diagnosed with a terminal illness as well as positives like significant weight loss or dietary improvements. These types of long-term changes that affect your life expectancy can significantly adjust your life insurance costs and necessary coverage.
Which life insurance is best?
Generally speaking, term life insurance is a better choice than whole life insurance. In most situations, whole life insurance won't end up being worthwhile, and you'll end up losing a lot of money compared to if you'd just invested the difference on your own. To put it simply, for most people, term life insurance is best.
Where Can I Get A Life Insurance Quote?
Getting a free quote with Ladder is easy. Click here to get started.
Ladder Insurance Services, LLC (CA license # OK22568; AR license # 3000140372) distributes term life insurance products issued by multiple insurers – for further details see ladderlife.com. All insurance products are governed by the terms set forth in the applicable insurance policy. Each insurer has financial responsibility for its own products.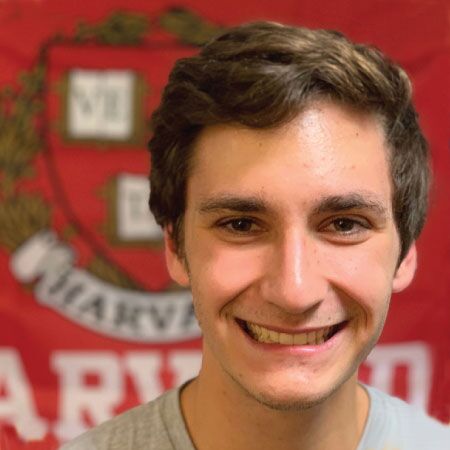 Lucas is a personal finance expert, an undergraduate student at Harvard University and the founder of the Personal Finance and Consulting Group at Harvard College (an officially recognized student organization). He has spent much of his life working to increase financial literacy in his surrounding communities through independent financial research and curricula design, and he is currently studying economics with a secondary in music.