Personal Capital and Mint are both some of the most popular financial tools currently available. On top of this, both are free. But which one should you use? Is Mint better than Personal Capital, or is it the other way around? While they share a few similarities, their specialties are different. Our Personal Capital vs Mint comparison highlights where each service shines, helping you choose the best tool for your individual needs.
Related: Personal Capital Review
Related: Mint App Review
What Is Personal Capital?
Personal Capital is a wealth management service with useful tools for free users. They operate as both an online alternative to traditional financial advisors and as providers of tools and information to do a base-level analysis of your financial situation.
If you are simply looking for an easy way to track your net worth and track your progress toward financial goals, then a free Personal Capital account is the perfect tool.
Personal Capital lets you plan for retirement while accounting for a wide range of factors that might affect that time. You also get free access information to help educate yourself on different financial topics.
While they have a handful of great free resources for planning retirement and managing finances, they also offer advising and financial planning services to those with at least $100,000.
For this Personal Capital vs Mint comparison, we're focusing on Personal Capital's free tools, since Mint is also a free service. We want to make sure we're comparing apples to apples here.
What Is Mint?
Mint is a money management app designed to make building a budget and sticking to it easier than ever. They are an entirely free service that offers tools for budgeting, as well as reminders for upcoming bills and a credit score tracker.
Mint's focus is on giving you a more complete overview of your financial situation. It lets you link all of your bank accounts into one place and keep an eye on your budget, bills, investments, etc.
If you're looking for simple but effective budgeting software or you're learning to pay more attention to your financial habits, Mint may be your best bet.
Personal Capital Vs. Mint – A Broad Overview
While both Personal Capital and Mint are useful budgeting and financial planning tools, they do have some differences. Let's explore where each fits into your financial life.
In short, both are great for making managing finances simpler.
By letting you see your bank accounts at once, it's easier to track your financial goals across all your accounts.
That $30 in a random savings account or $20 on a rarely used credit card won't go unnoticed any longer. Mint and Personal Capital help you make sure you're meeting your goals and not losing money to forgotten accounts.
However, it's important to note that there are still some differences between Personal Capital and Mint. For example, only Mint has a credit score monitor, while only Personal Capital has thorough investment planning.
Personal Capital Vs. Mint – Pros And Cons
Both Personal Capital and Mint have areas in which they excel. So, let's talk about where each can outperform the other to get a feel for their relative strengths and weaknesses.
Where Personal Capital Bests Mint
Seeing as Personal Capital is originally designed to be a wealth management service, it makes sense that they have incredible customer service. Since they're regularly managing high net worth clients and those clients' money, they have a ton of great infrastructure already in place to help you through any issues.
Personal Capital's customer support works mostly via email. Luckily, they operate around the clock, and I've not yet had a question that wasn't answered in up to 12 hours.
Note: Personal Capital does say it might take up to 24 hours for a response, depending on how many questions they currently have.
Though Mint has a chat feature, it's often very slow, goes through answers that resemble pre-written FAQs, or is simply unavailable. In short, Personal Capital's customer service is far and away better than Mint's.
When it comes to managing your investments, Personal Capital almost wins by default. Mint's only tool to help you with investing is a basic tracker that shows your portfolio's balance over a certain period of time.
On the other hand, Personal Capital offers thorough tools for everything from retirement planning to estimating your portfolio balance in 20 years' time.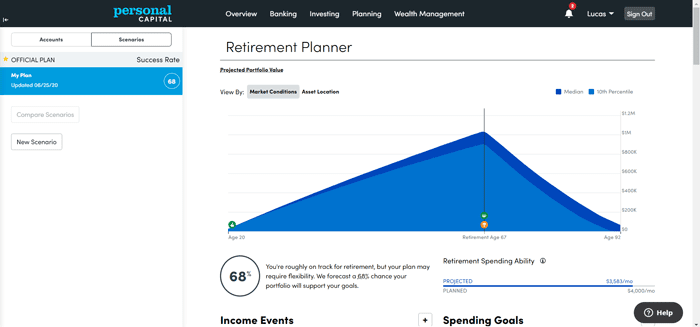 Using a few details like your current age, yearly savings, and expected retirement spending, Personal Capital's retirement planner simulates thousands of scenarios and gives you a breakdown of how much you'll have by the time you retire and how long it will last.
Taking into account other sources of income like Social Security, Personal Capital's tool does a wonderful job explaining how and where your money will go in retirement. It even gives you an estimate of how likely your portfolio is to last a certain number of years.
When it comes to investing, Personal Capital is the clear best choice.
Linking Your Bank Accounts
For linking several bank accounts to a single service, Personal Capital has a pretty big advantage over Mint.
Through the years, I've had to re-link my bank accounts a few times with Mint. Sometimes, their tracking no longer works, and the app is unable to update to a new month. This means your information then becomes out of date, and you can't see that month's income or expenses until you redo your account linking.
Compare this to Personal Capital, which links each of your accounts in 1-2 minutes. I have yet to have any issues linking my accounts while using Personal Capital, making them a better choice in my eyes.
Where Mint Bests Personal Capital
Since Mint is, first and foremost, a tool for budgeting, it should come as no surprise that they beat out Personal Capital when it comes to helping you build and manage a budget.
Mint's budget tool shows you exactly where you're spending your money. They group your monthly expenses by category, including ones like "Restaurants," "Credit Card Payment," and "Shopping."
After using Mint for the last two years, I've found they do a pretty good job correctly identifying the expense category.
If you do discover Mint's algorithm has misplaced a cost, you can simply correct it manually. Mint's system will then update and remember to categorize the expense accordingly going forward.
Mint also lets you set specific spending limits for each category. If you're trying to cut back on how often you eat out, you can tell Mint to limit how much you spend at restaurants or on fast food. This is an incredibly useful tool for policing your spending and building up better financial habits in the long term.
While Personal Capital also has a tool to track your spending, you can't set limits for specific categories. This makes Personal Capital more difficult to effectively use to fix your habits since you can't tell it how you want to spend your money.

Mint also provides extremely accurate information about when your next bills are due. Even though Personal Capital also has an alerts system for upcoming bills, Mint does a better job of reminding you when each one is due.
Mint even goes above and beyond, sending you alerts about pending transactions. Currently, Personal Capital lacks such a feature, making Mint a pretty clear winner when it comes to helping you avoid missed payments and late fees.
Personal Capital Vs. Mint – How Do They Make Money?
Here at TFT, we think it's vital for you to understand how companies, especially those that claim to offer free services, earn their money.
How Personal Capital Earns Its Money
The answer to this question is simple: management fees. Personal Capital charges annual fees for its premium service.
The fee ranges from 0.89% to 0.49%, depending on how much is in your account. On the upside, because Personal Capital earns its money through its wealth management service, the free tools are completely free!
How Mint Earns Its Money
Mint earns its revenue mostly by partnering with third-party financial services. In exchange for either a flat fee or a commission, Mint shows ads.
Ultimately, the ads are pretty easy to ignore and don't put a major damper on the end-user experience. But, it's important to be aware that Mint has them on their platform.
Are Personal Capital And Mint Safe?
The short answer is yes, both Personal Capital and Mint are safe.
Personal Capital's Safety Measures
As a company that markets itself towards wealthy clients, safety is of the utmost importance for Personal Capital. Luckily, they do a good job of making sure your information is kept safe.
When you first log in to your account from a new device, you're asked to input a security code sent via text, email, or phone call. This helps prevent fraudulent logins even in situations where your account's details are discovered.
Also, Personal Capital doesn't allow you to transfer money out of an account via the website. So, even if someone was able to get into your account, your money should be safe.
Any money you happen to have stored in your Personal Capital account can have FDIC insurance up to $1,500,000. So, your money is also safe in the event of insolvency.
Mint's Safety Measures
Mint does a similarly great job at protecting your banking information. Mint requires two-step verification when you log in. So, if someone happens to get a hold of your account details, you're still safe.
Even if someone gains access to your account, Mint won't let them transfer money out of your account from within. This adds a nice extra layer of protection in the unlikely event someone can get into your account.
Should You Use Personal Capital Or Mint?
Let's first get one point out of the way: nothing says you can't use both Personal Capital and Mint. They're each best at slightly different things. You could and absolutely should take advantage to get the best of both worlds.
With that in mind, here are the areas where Personal Capital and Mint each excel. You can use this as a guide for how to use each service to its fullest potential.
Who Personal Capital Is Best For
If you are simply looking for an easy way to track your net worth and track your progress toward financial goals, a free Personal Capital account is the perfect tool.
Personal Capital's focus leans more heavily toward investing. So, if you want a tool to help you start investing or track your current investments, check out Personal Capital.
Who Mint Is Best For
Mint is best used as a budgeting tool. If you're struggling with how to build a budget or simply want to automate the process a little bit more, Mint is perfect for you.
Similarly, if you're looking for an easier way to keep track of your bills and avoid late payments, Mint's bill alerts system can be a lifesaver.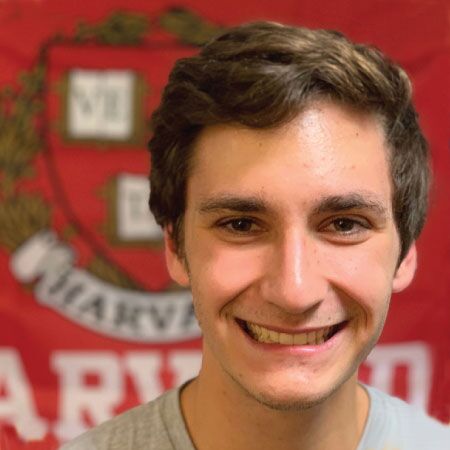 Lucas is a personal finance expert, an undergraduate student at Harvard University and the founder of the Personal Finance and Consulting Group at Harvard College (an officially recognized student organization). He has spent much of his life working to increase financial literacy in his surrounding communities through independent financial research and curricula design, and he is currently studying economics with a secondary in music.