Renters insurance, also known as tenants insurance, is insurance that protects you and your stuff against fire, theft, vandalism, and other events if you rent a home, apartment, or condo. And it's significantly less expensive than homeowners insurance!
This article will explain what renters' insurance is, what it does and doesn't cover, and how much coverage is necessary. Stay tuned to see how you can save thousands of dollars in potential damages with an affordable policy.
"I was required to get renter's insurance & thought it was a waste of my money at the time… then I had an accidental kitchen fire. Without that insurance, I don't know where I'd be.

It not only paid to replace all of MY stuff, but ALSO to rebuild the apartment and for the medical bills of neighbors who went to get checked out for smoke inhalation. Honestly, worth every penny."

via r/personalfinance
Why Renter's Insurance Is Necessary
Sometimes, unexpected events can derail our lives. You didn't plan on getting robbed or for a friend to injure himself on your property. Those costs are expensive, often more than what your emergency fund can handle. That's why it's critical to have renter's insurance.
With renter's insurance, you have some protection against unexpected events, or "covered perils" in business jargon. There are three parts that each cover different things: personal property coverage, liability coverage, and additional living expenses (ALE) coverage.
We'll go through what each coverage does and doesn't do, as well as answer any questions you may have about how renter's insurance works, how much coverage you should get, and how to file a claim.
Benefits Of Renter's Insurance
Like our friend with the kitchen fire said, renter's insurance is worth every penny. Whether it's a theft, a fire, or vandalism, renter's insurance helps pay for lost or damaged items. It even goes so far as to cover damage by aircraft or volcanic eruption!
Imagine somebody trips and falls in your apartment. They decide it's your fault and try to sue you for the cost of their medical bills. Lucky for you, renter's insurance can help cover those costs (both legal fees and medical bills).
Renter's insurance can even help out with hotel and food bills if more serious damages require you to live somewhere other than your rental property for a little while.
Your coverage from renter's insurance can protect against a ton of different things, and you don't have to live next to a volcano to need it. It can be hard enough handling the fear from a break-in or the stress of a legal battle without worrying it might also cripple you financially.
Legal fees, medical bills, replacing your things, the costs can add up fast. Renter's insurance helps keep you afloat financially if you find yourself in need.
If you do ever end up in a situation where you have to replace your possessions, live in a hotel for weeks at a time, or pay another's medical bills, you'll be thankful your past self was smart enough to get renter's insurance.
Think of it as life insurance for your things! Unless you can afford to replace everything in the event of a fire, it's a no-brainer, which is why some buildings require tenants to have it.
How Does Renter's Insurance Work?
If there's an event that qualifies for coverage under renter's insurance, you'll get money to pay for damages and recover lost items. But, the exact amount you receive depends on whether you have actual cash value coverage or replacement cost coverage.
Actual Cash Value Coverage Vs. Replacement Cost Coverage
Though both of these options offer coverage for lost or damaged items, the way they operate is slightly different.
With replacement cost coverage, you'll receive enough money to cover replacing the items. This means you get money equal to how much it would cost to buy the items new from the store.
With actual cash value, you'll receive money equal to however much the items were worth at the time of loss or damage. This takes into account depreciation (an item losing value over time due to wear and tear), which in turn means you'll likely receive less money with this option.
You may be thinking to yourself, "why does this make such a difference?" Well, the answer is because it often costs more to buy something new from the store than it would be used.
Also, companies may want to lowball an item's value when determining how much it was worth when it was lost or damaged. That way, it costs less for them to replace.
But, actual cash value coverage is usually cheaper than replacement cost coverage. Plus, your possessions may not be things you'd replace with exact copies. Consider your personal situation and decide which plan makes the most sense for you.
While it's true that money can't always buy happiness, losing everything you own and not having insurance is guaranteed to make your life much worse.
What Does Renter's Insurance Cover? – The 3 Types Of Coverage
Let's dive more in-depth into the three types of coverage available with renter's insurance—personal property, liability, and additional living expenses (ALE).
It's important to know what is and is not covered by each of these categories, as it could eventually be the difference between thousands of dollars in saved costs.
Liability
Liability coverage helps cover legal fees and medical bills if somebody gets hurt on your property and sues you. It can also pay to repair another person's property if damaged by accident.
Though liability coverage is useful and can get you out of a tight spot if someone tries suing you, make sure you're aware of the limits. Look over different policies and pay attention to the maximum payout offered.
If you end up going over this amount, you'll have to start paying out of pocket. Liability coverage will only be able to cover up to a given amount, usually around $100,000. If you get a bill for $110,000, you'll need to figure out how to get the extra $10,000 on your own.
Additional Living Expenses (ALE)
ALE coverage covers extra costs you may incur while unable to live in your rental home. This commonly includes things such as hotel bills, food costs (above the amount in your monthly budget), and additional gas if you're forced to travel more to get to and from work.
Most renter's insurance plans will cover at least the above costs, but shop around to see what other costs you might be able to get covered. This is one of the areas where the specifics of what's covered can vary heavily, depending on your plan.
Personal Property – Named Perils Vs. All Risk
Personal property coverage is what'll help replace any lost or damaged items in the event of a covered peril. This can come in two types: named perils and all risk.
All risk and named perils both refer to what events you want covered by renter's insurance.
All risk covers everything we've outlined above and is a blanket policy that offers a lot of protection. This may be the best plan for you if you live in an area that's at risk for most everything renter's insurance covers.
On the other hand, named perils allow you to pick and choose which events you want coverage from. For example, unless you live near an airfield, it's probably not worthwhile to protect your items from damage by aircraft.
Getting named peril coverage can be a lot cheaper, too. But, you should look at where you live and what your potential risks are to decide which plan makes the most sense for you.
It's also important to understand that it's impossible to know which disasters or events will occur in the future, so I err on the side of caution.
What Might Renter's Insurance Not Cover?
There are a number of ways renter's insurance can help you save money, but there are limits to what it can do.
If an earthquake, flood, landslide, or sinkhole damages your items, standard renter's insurance won't help you. You may want to buy an endorsement (added coverage for expensive items or particular disasters). The same applies to damage from rats, bugs, and other pests.
Among the more extreme damages not covered by renter's insurance, damages caused by terrorism or nuclear war (these used to be covered) do not qualify as covered perils.
If you live with a roommate, your personal property coverage will only apply to your own items. Liability coverage still protects you if you've borrowed a few things, but you probably shouldn't bank on using one person's insurance to cover multiple people.
The last things renter's insurance may not cover are especially expensive items (jewelry, art collections, etc.). You can usually only insure such items up to a certain amount ($1,500 for jewelry, $2,500 for high-end electronics) through renter's insurance.
If you want coverage beyond these amounts for specific items, look into buying an endorsement, or a separate insurance policy. Getting a separate policy is common for an engagement ring or other items which are typically very expensive to replace.
Does Renter's Insurance Cover Theft?
This question comes up a lot. Luckily, the answer is simple: yes, renter's insurance covers theft.
Renter's insurance also protects you from fraudulent credit card or checkbook use. If somebody steals your credit card or bank information, renter's insurance can cover any purchases the thief makes.
How Much Renter's Insurance Do I Need?
First, you'll want to calculate how much your stuff is worth. This can be a lot more work than people expect, and the total is also often much higher.
The average person has at least $35,000 worth of stuff, and most renter's insurance policies cover between $30,000 and $50,000.
This number will also probably be higher if you live in a house versus an apartment, but luckily renter's insurance for houses also scales upwards to about $100,000 worth of personal property coverage.
By taking the time to figure out how much your possessions are worth, you can avoid not having enough coverage without overpaying for insurance.
In terms of liability insurance, legal fees and medical bills can cost a small fortune. Landlords often require at least $100,000 of liability coverage, and as a rough estimate, this is pretty good. If you're worried your circumstances might increase this amount, meet with an insurance agent.
How Much Does Renter's Insurance Cost?
The Independent Insurance Agents and Brokers of America says the average annual premium for $20,000 of personal property and $500,000 of liability is around $20 a month.
This number relies on many factors, including your deductible, coverage amount, overall safety, and risk levels of your geographic area. But, $20 a month does a good job showing the overall affordability of renter's insurance.
It's a small price to pay to protect everything under your roof in the event of a disaster.
Many insurance companies will also work with you to provide discounts and bundles. Your auto insurance provider might be willing to bundle your renter's insurance. This usually comes with a nice discount on one or both as a result.
Similarly, installing safety measures like smoke detectors can reduce your monthly premium. It's always worth asking whether the insurance company provides any discounts or bundles that might save you money.
Where Do I Get Renter's Insurance?
There is no shortage of insurance agencies from which you can get renter's insurance. And, as we've said before in this article, you're often able to get a better deal if you shop around at multiple companies or bundle renter's insurance with whatever company provides your auto insurance.
With that in mind, if you're just looking for a place to start, here are a few possible companies:
USAA
Allstate
Geico
Liberty Mutual
Nationwide
Progressive
State Farm
Each of these options has pros and cons. Research which company offers the best options for your situation and again, look at multiple places.
How To File A Renter's Insurance Claim
If you find yourself with lost or damaged items, you'll have to file a claim with the insurance company to get reimbursed.
First, you should survey the situation and do what you can to prevent further damages (plugging a leak, putting out a fire, etc.). If there was theft or vandalism, you should also call the police and report the incident to them, keeping track of who you spoke with in case it becomes necessary later.
Next, you'll want to call your insurance company to report the claim. Do this as soon as possible, as it'll make your life easier later. Most insurance companies also have a deadline of 48 hours for you to file a claim, so time is of the essence here.
Then, ask to speak with your insurance agent. Explain what happened. They'll likely have a series of questions related to the severity of the damage, which will help determine how much you lost in value.
This is also your chance to ask them more about the necessary next steps, how long the process will take, your policy's limits, and any other questions you may have regarding your claim.
What To Do After Calling Your Insurance Agency
After you're done speaking with your insurance agent, it's always good to take a picture or video of any damages. You may also want to write down any damages in case it comes up later.
You've filed your claim with the insurance agency. You've spoken with your representative and informed them of the situation, and you've documented it in writing or on camera. You should also talk to your landlord and notify them of the situation (most states' laws require this).
Within the next day or two, you should receive a call from an insurance claims agency, notifying you of a claims form to fill out. It's important to be thorough here as well. Make note of everything you can (damages, anything lost, expenses, police report, etc.) as the renter's insurance company will use this form in their investigation.
Once their investigation is finished, they should reach out to you with their findings and decision.
Is Renter's Insurance Tax Deductible?
Unless you have a dedicated home office used exclusively to work from home, renter's insurance premiums are not tax-deductible.
If you do happen to have a specific room in your house or apartment that you use only for work (seriously, the IRS will investigate this), you may be able to write off your renter's insurance as a business expense. But, speak with a tax professional first if you think this may apply to you. Better safe than sorry.
Common Renter's Insurance Myths
"Oh, I don't need renter's insurance. My landlord has an insurance policy!"
Wrong. In most cases, your landlord's policy will only cover damages to the actual building. Which, while useful, doesn't help if you lose any personal property. It also doesn't pay for medical bills if someone gets hurt—that's still all on you unless you have renter's insurance!
"Renter's insurance only applies to things I keep in my house."
Again, wrong. Most renter's insurance policies also cover any items you have in your car or kept in a storage unit. This means you're afforded extra protection if something is lost or damaged, even if it's not directly in your home.
Note: This does not mean renter's insurance covers your car or other property, only your possessions inside them.
"I don't need to worry about saving money because I have renters insurance to protect me."
Renters insurance is not a substitute for saving for retirement or having a budget! It will protect you in case you suffer from a theft, fire, etc., but you still need to make sure you are saving for retirement.
It also doesn't protect your loved ones if your apartment burns down and you are killed. That's why it's critically important to have life insurance if you have anyone who relies on your income!
Remember, while renters insurance might not be required by law, you'll likely always want it.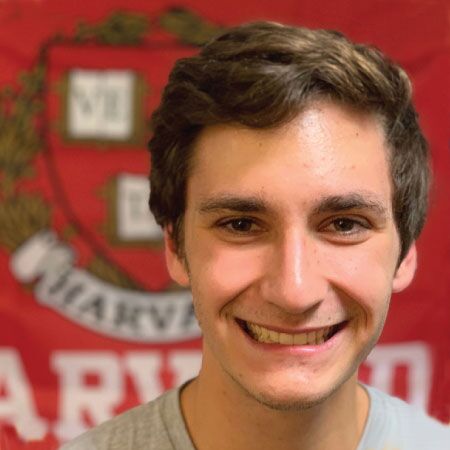 Lucas is a personal finance expert, an undergraduate student at Harvard University and the founder of the Personal Finance and Consulting Group at Harvard College (an officially recognized student organization). He has spent much of his life working to increase financial literacy in his surrounding communities through independent financial research and curricula design, and he is currently studying economics with a secondary in music.