Investing can seem like a daunting task for most Americans. In the past, complicated financial systems, private brokers, and high minimums kept people from taking advantage of investing. Thanks to financial tools like Betterment, investing's long-standing hurdles are starting to disappear.
But what is Betterment, and how does it work? Is Betterment safe? And, most importantly, should you use it? Find out the answers to all of these questions and more in this Betterment review.
Betterment Review Score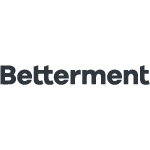 Name: Betterment
Description: is one of the best robo-advisors currently available. With low fees and a ton of features, Betterment is a fantastic choice for anyone looking to invest without all the hassle.
Pricing

User Experience

Ease Of Use

Customer Service
Summary
Betterment is one of the best robo-advisors currently available. With low fees and a ton of features, Betterment is a fantastic choice for anyone looking to invest without all the hassle.
Pros
Flexibility in asset allocation
No account minimum
Low management fees
CFPs available
Can invest in value stocks
Well-diversified portfolios
Automatic portfolio rebalancing
Tax-loss harvesting
Cons
Financial advisors have a higher annual fee and $100,000 account minimum
Hands-on investors will likely feel crippled
No real estate investments (REITs)
What Is Betterment?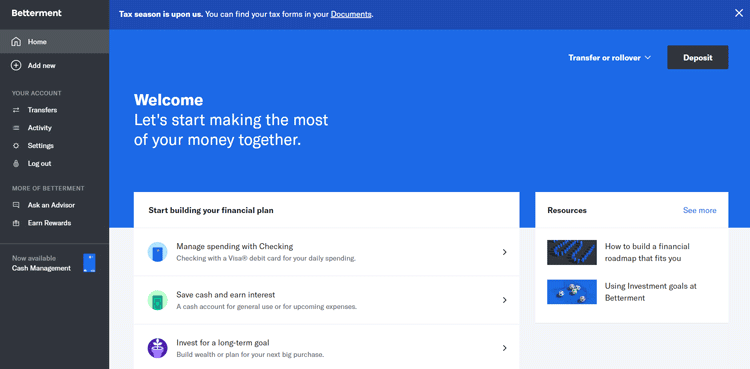 Betterment is one of the most established robo-advisors that's still around today. It was founded back in 2008 and has grown to its current status as one of the leading investment platforms available.
With over $20+ billion of assets under its management, Betterment is one of the largest robo-advisors in the world, trailing only established giants like Schwab and Vanguard. This sustained growth has been fueled largely by Betterment's commitment to using the best technology and strategies available.
How Does Betterment Work?
Betterment uses its questionnaire to assess critical factors that help determine how you should invest. Chief among these is your risk tolerance, which is the amount of risk you're willing to take on with an investment. Higher risk tends to lead to greater potential rewards, but most people prefer minimal risk.
After gathering this information, Betterment can choose a portfolio that best suits your preferences.
Although these can vary in terms of which specific assets your portfolio has, you can rest assured knowing that Betterment does an excellent job managing diversification. This means that regardless of how much risk you choose to take, you'll be protected against extra unnecessary risk.
Using their computer algorithm, Betterment also takes care of a lot of the nitty-gritty details that come with managing an investment. Things like portfolio rebalancing and tax-loss harvesting are all done for you.
All of these services are paid based on a small percentage of your portfolio's total worth. This is pretty standard practice across robo-advisors, but there are also free options like M1 Finance if you don't mind missing out on a few of Betterment's features.
What Makes Betterment Unique?
One of Betterment's most unique features is its offering of value stocks as investable assets. These are stocks in companies that, due to advanced metrics, aren't as highly valued by active traders.
By investing in these types of companies, there's a lot of potential to earn more money than you could through more traditional investments. This is one of the few investment strategies that offer possible long-term success, so it's great to see Betterment taking advantage of it.
Another part of Betterment that makes it unique is that it's a "hybrid" of sorts between online and in-person investment platforms. While computer algorithms automate the standard account, Betterment's premium service lets you regularly interact with a financial advisor.
This flexibility allows Betterment to appeal to a broader range of possible investors. On the one hand, you have cheap, automatic investing to satisfy the hands-off investor. On the other hand, there are professional financial planners to help those whose situations are more complex.
Regardless of which camp you fall into, you can probably find what you're looking for with Betterment.
The last significant, unique aspect of Betterment is the amount of flexibility you get when choosing investments.
Unlike an M1 Finance or Acorns, Betterment lets you change how much of your portfolio you want to be invested in different types of assets. If you want more international investments, you can adjust. If you'd rather invest in short-term US Treasury bonds, go for it!
However, it's important to note that Betterment does not let you choose which ETFs are actually in the asset class. Though some people may find this frustrating, it's a useful way to ensure your portfolio stays diversified.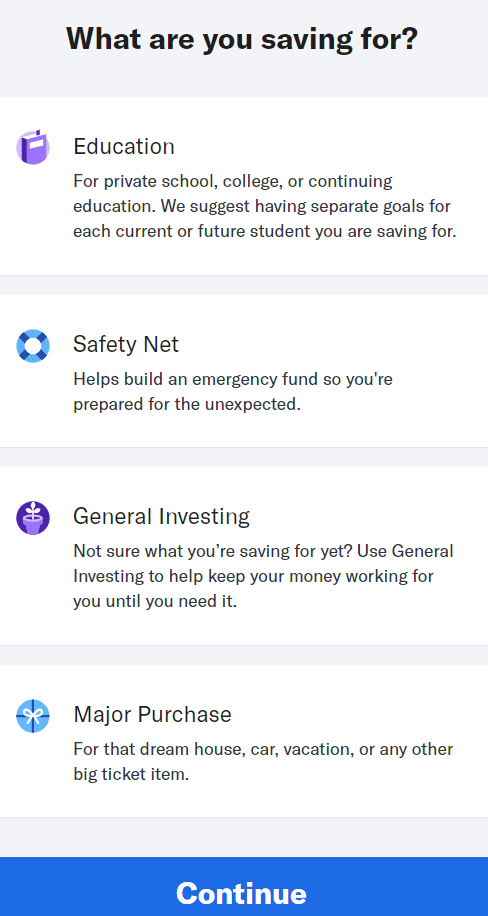 Pros & Cons Of Betterment
Betterment Pros
Flexibility in asset allocation
No account minimum
Low management fees
CFPs available
Can invest in value stocks
Well-diversified portfolios
Automatic portfolio rebalancing
Tax-loss harvesting
Betterment Cons
Financial advisors have a higher annual fee and $100,000 account minimum
Hands-on investors will likely feel crippled
No real estate investments (REITs)
How Much Does Betterment Cost?
Betterment's standard offering costs 0.25% of your account balance annually.
So if, for example, your portfolio has $10,000 worth of assets in it, you would pay $25 for the year. Although these types of fees can certainly add up over time, Betterment has one of the lowest ones available.
Betterment Premium
If you want to take advantage of Betterment's premium plan, which gives unlimited access via phone to CFPs, it'll cost 0.40% annually. If you want regular access to a professional, Betterment's rates are actually very reasonable.
This can be useful if you need advice on other investments not managed by Betterment. This includes 401(k)s and assets like real estate. If you have investments spread across a wide variety of services, consider Betterment Premium.
But, you'll need at least $100,000 in your account if you want to use Betterment Premium.
Is Betterment Safe?
The short answer is yes; Betterment is safe. They encrypt all account data and use two-factor authentication. This means you're unlikely to have your account details stolen. And, even if you do, two-factor authentication can help protect your account's assets.
In terms of your investments, Betterment offers SIPC insurance. With SIPC insurance, your investments are protected up to $500,000 or $250,000 cash. So, in the unlikely event Betterment declares bankruptcy, you won't be left with an empty bag.
How Does Betterment Make Money?
Betterment makes its money through annual fees. If you have a standard account, this is your 0.25% fee. If you're using Betterment Premium, your 0.40% is going towards Betterment's bottom line.
How Is Betterment's Customer Service?
The bulk of Betterment's customer service takes place online. This means you'll mostly be using email and the FAQs on Betterment's site to get help.
But, if you do find yourself in need of some more personal assistance, Betterment also has an over-the-phone support system that's available from 9 am – 6 pm ET, Monday through Friday.
You'll have to use email outside of these times, which is available through the same hours plus 11 am – 6 pm ET on the weekend.
What I Wish Was Different About Betterment
I don't have many complaints about Betterment. They offer low prices, excellent service, and a lot of features. That said, the inability to invest in real estate via REITs is unfortunate.
Real estate can be a great way to diversify your portfolio beyond what's available through stocks, bonds, and ETFs. By investing in a REIT, you're basically investing in a company that buys properties, which means the company's value is tied to the underlying rental properties.
Think of this strategy similarly to investing in stocks. In both cases, you're becoming a shareholder (person who owns shares or stocks in a company) and thus get to enjoy part of that company's profits.
Since real estate value often follows different trends than the stock market, it serves as a way to get further protection against risk. Although Betterment's lack of REITs isn't the end of the world, it would still be great to see them added.
According to the company, their reasoning does seem to offer a good explanation for it: "We include exposure to real estate, but as a sector within equities. Adding additional real estate exposure by including a REIT asset class would overweight the portfolio strategy's exposure to real estate relative to the overall market."
How Does Betterment Fare Against Competitors?
Betterment is one of the best robo-advisors currently available. In terms of low-cost, passive investment platforms, Betterment's truest competitor is Wealthfront. Although other robo-advisors can beat out Betterment in specific areas, almost none have the same all-around capabilities.
See how Wealthfront stacks up against Betterment: Wealthfront vs Betterment review
But, that's not to say there isn't some great competition out there. M1 Finance has no annual fees whatsoever. Robinhood also offers fractional shares and no account minimums but lets you pick individual stocks. And, Webull has a ton of technical tools for someone who wants to be a more active investor.
Betterment will do well against the competition in terms of making investing easy and handling the most difficult parts. As an all-around investing platform, it's fantastic. Just know that it's not the only great option out there.
How To Get Started On Betterment
You can sign up here!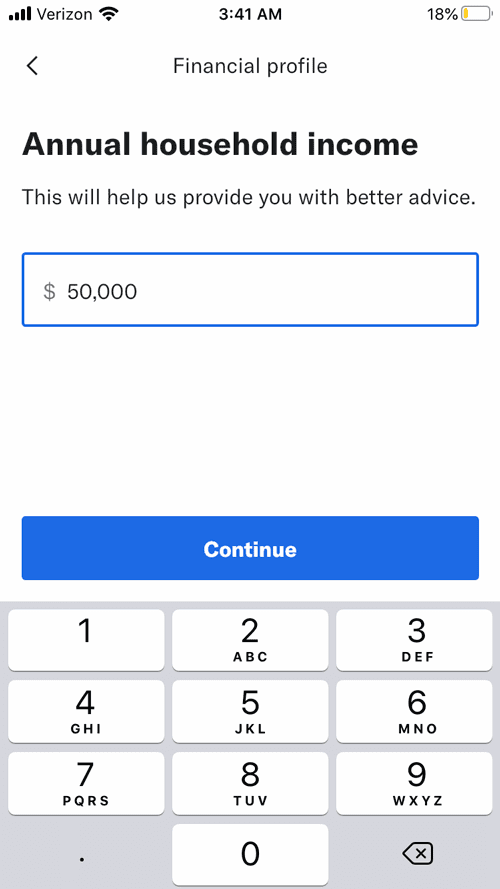 Betterment is well known for having one of the easiest start-up processes of any robo-advisor. They even state at the start of their sign up process that it should take at most three minutes!
To create an account, first fill out some basic details like your email address, address, and income. Then, you can pick your financial goals. These can be anything from education to retirement.
Once you have selected your goals, Betterment lets you play around with different asset allocations and shows you how risky various investments are. Once you've determined what balance you want, it's time to connect any bank accounts and get started!
It's an incredibly simple process, and from start to finish, it only took me two minutes to complete.
Should You Use Betterment
There's a reason Betterment is so highly rated by financial experts. They offer a cheap service with a surprising amount of features. If you're looking for a way to passively invest, whether for retirement, a child's education, or a home, Betterment can help you meet your financial goals quicker and easier.
For anyone who wants to invest but lacks the lofty account balances other services have, Betterment is a great introduction. With no account minimums and automatic portfolio rebalancing, Betterment can remove the stress from learning to invest.
If you want to start investing without the risks of picking individual stocks or managing your own portfolio, check out Betterment.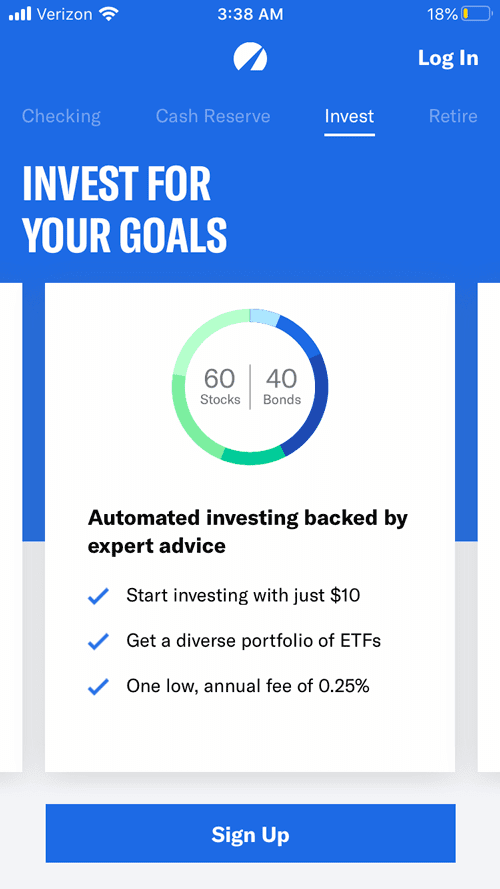 FAQs
Can you lose money with Betterment?
Yes, you can lose money with Betterment. Just like any other investment platform, Betterment does not guarantee the performance of any of your investments. Although the stock market has historically increased over long periods of time, this doesn't mean you can not lose money with Betterment or any investment.
Is Betterment a good investment?
Betterment is a good investment for anyone looking to invest with minimal effort and required upkeep. Their automatic portfolio management, combined with low annual costs, makes it easy to invest without taking on unnecessary risk.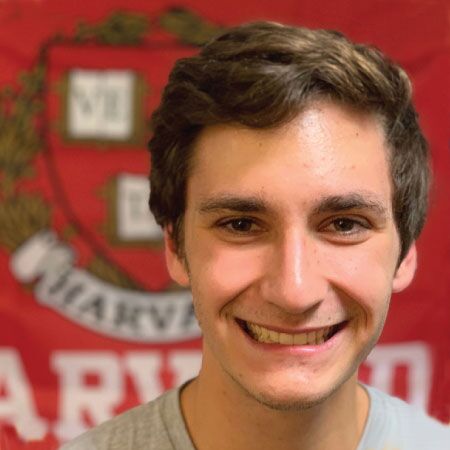 Lucas is a personal finance expert, an undergraduate student at Harvard University and the founder of the Personal Finance and Consulting Group at Harvard College (an officially recognized student organization). He has spent much of his life working to increase financial literacy in his surrounding communities through independent financial research and curricula design, and he is currently studying economics with a secondary in music.