Investing can seem like a daunting task for most Americans. In the past, complicated financial systems, private brokers, and high minimums kept people from taking advantage of investing. Thanks to robo-advisor companies like Betterment and Wealthfront, investing's long-standing hurdles are starting to disappear.
Which is better? What are the pros and cons of both? And, most importantly, should you use Betterment or Wealthfront? Find out the answers to all of these questions and more in this Betterment vs Wealthfront comparison.
RELATED:
– Read our full Betterment Review
– Read our full Wealthfront Review
What Is Betterment?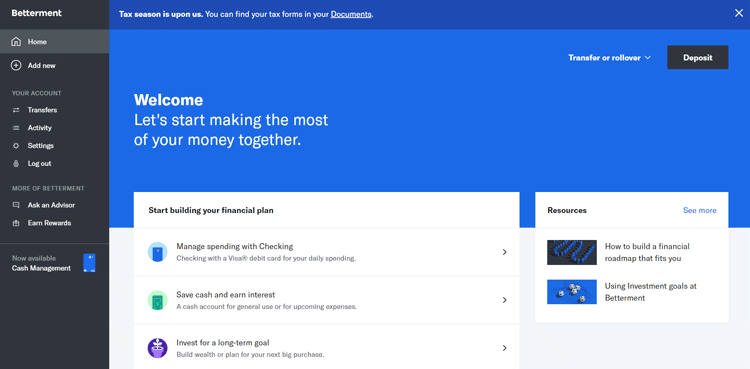 Betterment is one of the most established robo-advisors that's around today. It was founded back in 2008 and has grown to its current status as one of the top robo-advising investment platforms available.
With more than $22 billion of assets under its management, Betterment currently has the third-most assets of any robo-advisor, behind only Schwab Intelligent Portfolios and Vanguard Personal Advisor Services.
This sustained growth has been fueled largely by Betterment's commitment to using the best technology and strategies available.
What Is Wealthfront?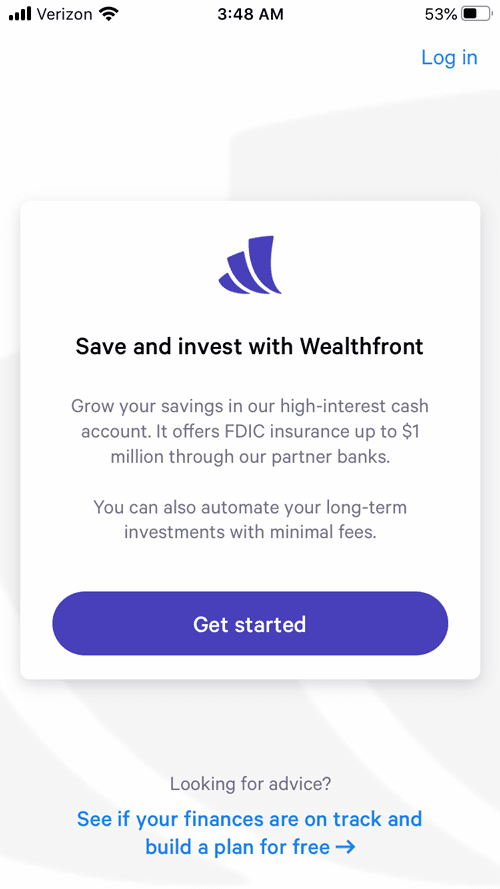 Wealthfront is a robo-advisor geared towards helping the average person invest. By providing high-quality advice through Wealthfront's online questionnaire, you can learn how to invest and set yourself up for financial success without a traditional financial advisor's high costs.
One of the biggest draws to Wealthfront is its wide range of expertise. Compared to many alternatives, Wealthfront helps you plan for your future using a more complete picture of your financial life.
Betterment Pros & Cons
Betterment Pros
Flexibility in asset allocation
No account minimum
Low management fees
CFPs available
Can invest in value stocks
Well-diversified portfolios
Automatic portfolio rebalancing
Tax-loss harvesting
Fractional shares
Betterment Cons
Financial advisors have a higher annual fee and $100,000 account minimum
Hands-on investors will likely feel crippled
No real estate investments (REITs)
Wealthfront Pros & Cons
Wealthfront Pros
Low-cost ETFs
Tax-loss harvesting
Portfolio rebalancing
Accounts for 529 accounts and college funds
Cash accounts for liquid money
Automatic diversification
Real-estate investing
Wealthfront Cons
Lack of flexibility in investments
Inability to invest in fractional shares
$500 account minimum
Pricing & Fees
Both Betterment and Wealthfront have 0.25% annual management fees. So if, for example, your portfolio has $10,000 worth of assets in it, you would pay $25 for the year with either service.
However, Betterment also has a premium service with access to CFPs. This extra level, Betterment Premium, has a higher annual fee of 0.40% and a $100,000 account minimum.
Account Minimums
While Betterment's premium account has a $100,000 minimum, the standard option has no account minimums at all. Since Wealthfront has a $500 account minimum, this puts Betterment ahead of Wealthfront in our Betterment vs Wealthfront comparison.
Features & Tools
This is where the differences between Betterment vs Wealthfront start to really show.
On the one hand, Betterment's fractional shares, combined with a $0 investment minimum, give it an advantage over Wealthfront as an introductory tool for investing. With these features, Betterment has lowered the cost needed to start, which is another common obstacle people face when learning how to invest.
At the other end of the spectrum, accounts with over $100,000 can access professional financial advisors through Betterment. Wealthfront does not have any such features.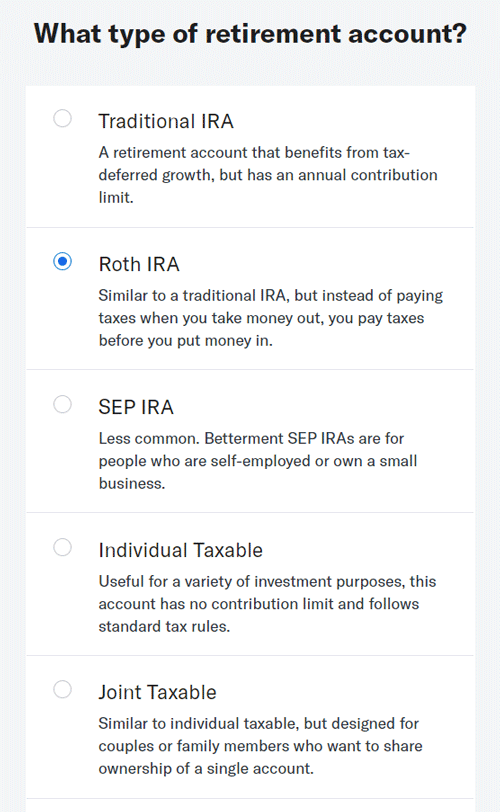 But, on the other hand, Wealthfront helps you save for college using 529 plans. Plus, anyone can use Wealthfront's free alternative to traditional financial planners: Path.
Path is an advice engine that acts as an automatic version of the advice you'd receive from traditional financial planners.
Thanks to this automation, Wealthfront can give you the same or similar information as an in-person financial planner without all the costs.
Despite these differences, however, there are still a number of similarities between Betterment and Wealthfront. Both services rely mostly on computer algorithms to determine what your portfolio should look like.
Beyond overall asset distribution, Betterment and Wealthfront both automatically rebalance your portfolio. This removes the burden of managing your portfolio and making sure your assets stay proportional over time.
Betterment and Wealthfront also take advantage of tax-loss harvesting, which is a modern financial technique that involves buying and selling assets in a way that minimizes your tax bill.
Investment Options For Betterment Vs Wealthfront
But, maybe most importantly, both companies focus on low-cost ETFs for investment options. These are some of the best ways to invest over a long period of time since they basically offer small portions of several different stocks, bonds, or other assets.
In short, ETFs can do wonders for diversification.
Now, although the core product is the same for Betterment and Wealthfront, there are still some differences between the investment options each offer.
Wealthfront Investment Options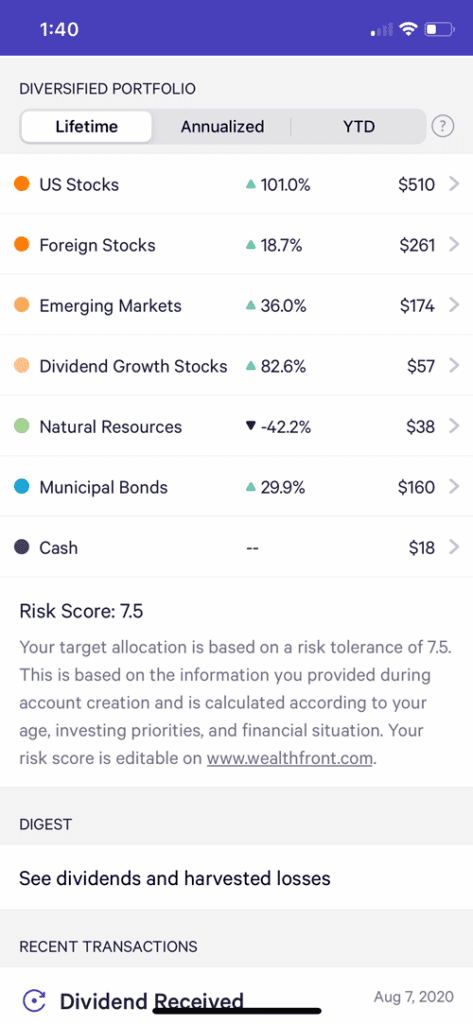 For starters, Wealthfront lets you invest in real estate. This can be a good way to diversify your portfolio further, so the fact that Wealthfront has this option is excellent.
Beyond real estate, there's also Wealthfront's Risk Parity Fund. This is a mutual fund from Wealthfront with an annual fee of 0.50% and an account minimum of $100,000.
In exchange for this additional fee, you'll be able to invest in assets that reportedly give higher returns for a similar level of risk. This means that, at least in theory, you can earn extra money on your investments.
It's also important to note that Wealthfront limits the percentage of your total portfolio that you can put in their Risk Parity Fund. Qualified users can only have up to 20% of their assets in the mutual fund.
Betterment Investment Options
We've already talked about Betterment's fractional shares, which are a great way to invest with smaller chunks of money. In addition to fractional shares, Betterment lets you engage in socially responsible investing.
Socially responsible investing is when you only invest in companies that align with your non-monetary goals. If you care a lot about climate change, for example, you might opt to invest specifically in companies that implement green initiatives.
While this doesn't have huge impacts on the dollar amount of your investments, some people find this feature incredibly valuable.
Customer Service
Both Betterment and Wealthfront rely heavily on online FAQs for answering questions and lack chat features. However, they each have their own customer support team that is accessible via phone.
Wealthfront's phones are available from Monday through Friday from 10 am to 8 pm ET. Betterment's phones are open from Monday through Friday from 9 am to 6 pm ET.
But, Betterment also has an email service that gives you access to customer support on weekends. Their email is open during the same hours as their phone on Monday through Friday, but on Saturdays and Sundays, you can email from 11 am to 6 pm ET.
Security
Simply put, both Betterment and Wealthfront are safe.
All accounts with Betterment and Wealthfront have SIPC insurance, which covers up to $500,000 in securities or $250,000 in cash. This means your investments and accounts are safe in the unlikely event that either company declares bankruptcy.
While a security breach is always possible with any company, Betterment and Wealthfront encrypt your personal data. In most situations, this encryption is enough to prevent any major issues.
But, Wealthfront goes one step further when it comes to security. With Wealthfront, you can set your account to a read-only setting. This means anyone who does manage to get your information won't be able to transfer any payments.
Plus, Wealthfront doesn't allow its servers to store your account's password, meaning any leaks would not compromise your account. This means, although using either Betterment or Wealthfront to invest involves minimal security risk, Wealthfront wins the battle of security.
How To Get Started On Betterment
Betterment is well known for having one of the easiest start-up processes of any robo-advisor. They even state at the start of their sign up process that it should take at most three minutes!
To create an account, first fill out some basic details like your email address, address, and income. Then, you can pick your financial goals. These can be anything from education to retirement.
Once you have selected your goals, Betterment lets you play around with different asset allocations and shows you how risky various investments are. Once you've determined what balance you want, it's time to connect any bank accounts and get started!
It's an incredibly simple process, and from start to finish, it only took me two minutes to complete.
How To Get Started On Wealthfront
Getting started on Wealthfront is easy and only takes a few minutes!
When you first open Wealthfront or go to their website, you'll create an account with a username, password, and email address. Next, include your current savings and pre-tax income and pick your investment goals. These goals can be anything from retirement to a down payment on a house.
Then, go ahead and add any of your bank accounts that you want to be included in your portfolio.
Wealthfront has many of the most popular banks to choose from, including Chase, Bank of America, and Wells Fargo. You shouldn't have any trouble finding your accounts.
After linking your accounts, you'll fill out a brief questionnaire to determine your risk tolerance and viola! You're ready to use Wealthfront.
Which Is Best? Betterment Vs Wealthfront
Let's make one thing clear: although we've been comparing Betterment vs Wealthfront, both are phenomenal services! A lot of the differences between the two are relatively minor when it comes to the broader landscape of robo-advisors. You truly can't go wrong with either one!
That said, if you're an investor who cares about socially responsible investing, wants to utilize in-person professional advisors, or is excited about investing in value stocks, you're probably better off with Betterment.
Similarly, if you don't have $500 already saved up or can't invest in large sums, Betterment's fractional shares and lack of account minimums will be an attractive draw.
But, if you'd rather just get a financial advisor's advice without the in-person aspect, Wealthfront and Path are more than likely your best bet. And, if you want to invest in real estate or take advantage of their 529 college accounts, you should definitely check out Wealthfront.
Sign up here for Betterment now!
Sign up here for Wealthfront now!
FAQs
Is Wealthfront better than Betterment?
Wealthfront isn't necessarily better than Betterment. The two services have a great deal of similarities, and their differences each suit a different type of investor. Whether or not you'll find Wealthfront better than Betterment will come down to personal preference and your investing goals.
Is Betterment the best?
In a lot of aspects, Betterment is one of the best robo-advisors out there. But, compared to Wealthfront, Betterment isn't always the best. But, Betterment does remove a lot of the hurdles to investing, and it's possible that Betterment is the best for investors who don't have much money to start out.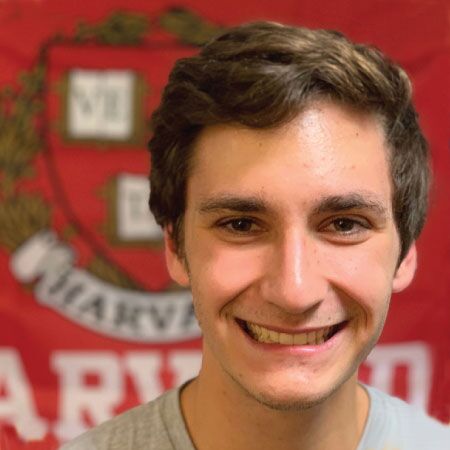 Lucas is a personal finance expert, an undergraduate student at Harvard University and the founder of the Personal Finance and Consulting Group at Harvard College (an officially recognized student organization). He has spent much of his life working to increase financial literacy in his surrounding communities through independent financial research and curricula design, and he is currently studying economics with a secondary in music.